Blogging is about hard work, fulfilling a need, and providing value.  Most importantly, you must engage with and build a trusted community.  Be authentic, stand out, and niche your site.  These are my favorite blogging resources.
I update these blogging courses, resources, and tools frequently.
This post may contain affiliate links: If you purchase through my link, I will receive a small commission at no additional cost to you. I only recommend products/services that I approve of.  Purchasing through my links allows me to continue to provide unique content and pursue my business dreams. Thank you for supporting me.  Please refer to my Disclosure.
Basic Blogging Resources
Self-Hosting
I highly recommend self-hosting with SiteGround.  I pair SiteGround with WP .org.
SiteGround allows you to:
Monetize your blog
Control plugins, features, and functionality
Spend less money: Their starter package begins at $3.95 a month.
Achieve faster-loading speeds
Store photos with extra space
Create a custom domain email
Feel safe knowing that you have 24/7 online support.  I once crashed my site with an update.  They restored it in less than 3-minutes.
Back-up your site daily for free.
SiteGround has taken my blog to the next level through better SEO ranking and allowing me to place ads and links wherever I wish.  You can read more about self-hosting here.
For bloggers with more experience, 25K views a month, and extra spending funds, I also suggest researching WP Engine.  WP Engine is on my radar/goals for the future based on my friends' experiences.  You can access many themes in StudioPress along with Genesis Framework for free.  Genesis Frameworks are easy to use and awesome for SEO.
Blog Themes
WordPress offers a variety of free starter themes.  When I migrated over to SiteGround and WP .org, I decided to invest in a new blog theme.  TUL is currently using Genesis Framework with a Restored 316 design.
StudioPress (that works with the Genesis Framework) is great with a variety of beautiful themes that are mobile-friendly, clean, and diverse.
Free Blogging Resources: Plugins
With self-hosting, you can download a variety of plugins to help boost blog traffic and protect your site from bots and hackers.  Some of the plugins I recommend and use include:

Yoast SEO – Rank higher in Internet searches and learn how to keyword posts.
Grammarly – Check spelling, writing mistakes, and grammar in your blog posts.  There is a free version, which I love and use daily.
Anti-Spam and Wordfence- Protect your site from hackers, and block spammy comments.
Redirect and Broken Link Checker- Redirect any 404 (page not found) errors and check the health of your links.
Delete Cache, WP-Optimize, and Smush- Clear caches and data that are slowing down your site. Smush makes pictures smaller for faster loading times.  High-speed sites rank better for SEO.
Blogging Legally
Is your blog legal?  Protecting your blog and content is equally important.  I don't speak legalese, and I know that most bloggers don't either.  A Privacy Policy, Disclosure, Terms and Conditions, and Disclaimer are just a few pages that you need on your website to get approved for affiliates and Google Adsense.
Plus, you don't want to break any rules or regulations or, let's face it, get sued.  Free online templates really do not cover you, either.  I started that way and now know better.  Why tempt fate?
One of the best investments that I made for my blog is protecting it and myself.  Amira, from A Self Guru, is a blogging friend and lawyer.  I highly recommend checking out her legal bundle with templates for a Privacy Policy, Disclaimer, and Terms and Conditions.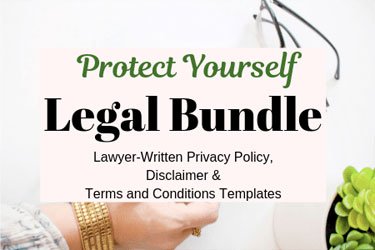 Investment Blogging Resources: Social Media Scheduling Tools
Tailwind (TW) is TUL's number one scheduling tool for Pinterest and blog traffic.  I schedule about 30-40 pins a day via TW, taking advantage of Tailwind tribes and board lists.  TW also gives bloggers in-depth analytics about board performance, blog traffic, and engagement.  I reached over 1 million Pinterest views in less than 3 months and achieved almost 1,000 daily pageviews with this Pinterest course.
Facebook Business accounts have FREE automatic schedulers built into the platform.  TUL schedules posts for free one to two weeks in advance.  The FB algorithm works in your favor when you publish consistently.
Affiliate Marketing Programs For Bloggers
The easiest way to monetize your site is with affiliate marketing.  Earn passive income from links and banner ads that you choose.  You can read more in-depth about each affiliate marketing program here.
ShareASale – Offers a variety of affiliate programs with services including blogging tools, photobooks through companies like Mixbook, and fun products like Zazzle.

Awin.com – Home to Etsy, a variety of hotel and travel sites, and stationery companies.
Amazon – The easiest affiliate program to join and use.  Plus, almost everyone uses Amazon for purchases.  The list of products is unlimited.
Social Media and Blog Graphics
Canva – Canva has a free and paid version.  TUL uses Canva to create appealing Pinterest pins and featured blog post pictures.
Adobe Spark and Lightroom- TUL lives by the $9.99 monthly subscription of all Adobe products including Lightroom and Photoshop.  With part of this package, I also have access to Adobe Spark for Pinterest board covers and any type of social promotion and visual storytelling needed.  TUL mainly uses Adobe Spark for IG stories, IG story covers, Pinterest board covers, and the occasional Pinterest pin.  here.
Blogging Resources and Courses
I highly recommend investing in your blog and self-growth.  Algorithms, the internet, and information change constantly.  You don't want to get left behind or stagnate.
Each year, I actively seek out new blog training courses to learn and grow from the pros.  Discover more about SEO, Pinterest marketing, and productivity with big bloggers making full-time salaries.  Find inspirational books and podcasts here too: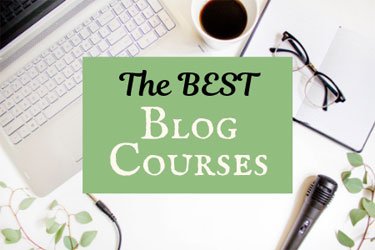 Are You A Book Blogger?  Find Out A Few Of My Book Blogging Secrets
As a double niche blogger, I work hard to create travel-related and bookish posts.  Each niche involves a specific type of blogging and style.  I use multiple affiliate programs and market my content differently per category.
If you are a book blogger, I have created a Book Blogging Tips Resource Page that will be perfect for you.  Learn about:
Affiliate and Pinterest marketing for book bloggers
Why and how to start a book blog
How to get started with #bookstagram: what you will need and how to use Instagram more effectively
67 blog topics for book bloggers
Photoshop and Lightroom, including preset recommendations
Simple html code to hide Pinterest pins as well as optimize your pinnable images
Looking For More In-Depth Blogging Resources and Tools? 
If you are looking for articles and blog posts to help you take your blog to the next level, check out my most popular and highest performing blogging resources on The Uncorked Librarian below.  Check here for all of TUL's blogging resources.
Turning Your Blog Into A Business
How To Make Money Blogging
Learn why you should use self-hosting platforms such as SiteGround. Discover the differences between WP .com and .org. Learn how to immediately monetize your site with these 5 affiliate programs for bloggers.
Blogging Legal Issues and LLC Status
Bloggers need to protect their private assets from the moment they start putting opinions on paper and monetizing their site.  Applying for LLC status is one way to separate your personal wine fund from your blogging business–big or small.  Discover the easy process of registering your blog as an LLC.  Find tips on how to make money blogging.
The cliche goes that "imitation is the strongest form of flattery," right?  But when do inspiration and overlap become plagiarism and copyright infringement?  After a rogue book blogger decided to steal posts from TUL and other bloggers, I jumped to action.  Find out how to legally protect your blog and content from being stolen.  If a blogger copies your work, find out what you can do.
Blogging Tips and Tricks
Are you blogging off your behind to no avail?  Discover these 5 tips and tricks to increase blog traffic, immediately.  Find suggested courses, the best schedulers, and learn how Pinterest can completely transform your blogging game plan.  See I how I steadily grew my blog traffic.
Looking for more than just what plugins to use?  Are you beyond the point in your blogging career where you don't need to hear about consistency, self-hosting, and plugins?  This post is for you!  TUL asked a diverse niche of bloggers to share some of their not-so-average blogging tips for advanced or stuck bloggers.  Find truth bombs about DA, social share threads, social media, and more about not writing for the masses.
Bloggers' Life 
Read more about the remote life. Commiserate with the hard work blogging entails. Find 10 blogging myths crushed.  This post is especially relevant for misunderstood bloggers and entrepreneurs with less than understanding friends and family.
The sedentary, remote life with an excess of screen time can wear on any blogger.  Add in unstable income, long sitting periods, and constant social media notifications.  Read about TUL's 5 habits to stay healthy and stress-free as a blogger, remote worker, and digital nomad.
Social Media For Bloggers
Are you looking to boost blog traffic and network with other bloggers?  These 20 Facebook groups and Pinterest boards will help get you started.
Instagram is a frustrating platform filled with ever-changing algorithms and brands that take advantage of smaller bloggers and micro-influencers.  Learn what your time, platform, voice, and gallery is worth. Understand how not to fall prey to Instagram scams.
Writing Tips For Bloggers
Engaging your audience and building trust and relationships are key to successful blogs.  Learn how to write meaningful and engaging captions with these 10 writing prompts.  Also, learn how to trade in overused quotes and clichés for heartfelt stories that connect with audiences.
Be Sure To Check Back For Updates And Additional Blogging Resources
Lastly, if you have any questions, never hesitate to email Christine at hello@theuncorkedlibrarian.com.
Save These Blogging Resources And Tools For Late: Pin It!