What Is The Entertainer Book Tag?
Book bloggers love sharing their favorite reads as well as weirdo titles in fun and unique ways.  The Entertainer Book Tag is an online blog book tag from bloggers passed on to other bloggers.  Questions are asked and answered, and then we spread the love with even more impossible to answer book dragon questions.  No, the tag is not quite like those annoying chain letters where half of your family will get eaten by a pack of raging unicorns if you fail to respond, but just in case, I had to share my book choices.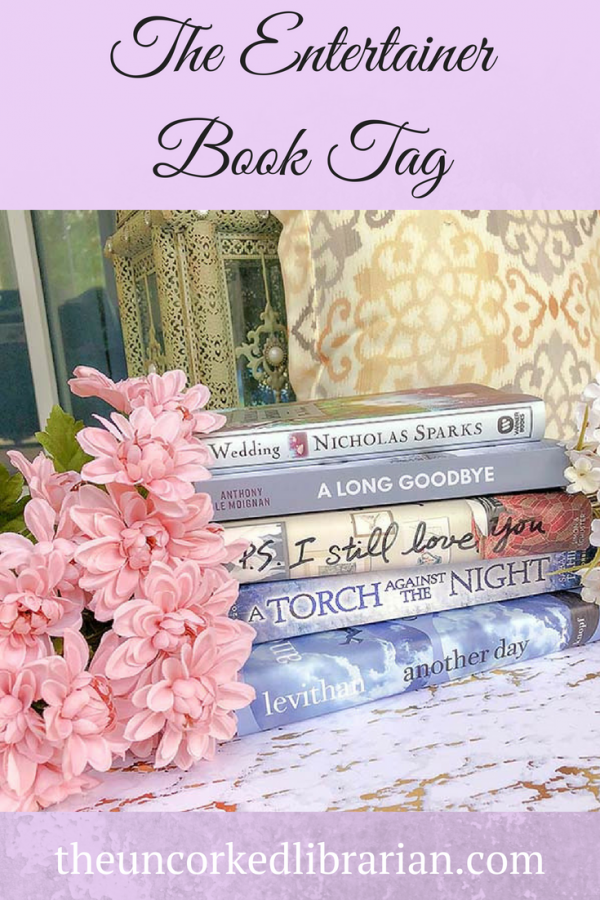 Disclosure
:
This site contains affiliate links for products and services I recommend. Read my Disclosure for more information. If you make a purchase through these links, at no additional cost to you, I will earn a small commission. Thank you!
Meet Fiction No Chaser
Thank you to Jess and Teagan of Fiction No Chaser for tagging TUL in this book tag post. Their book blog perfectly aligns with The Uncorked Librarian as they match book reviews with a boozy chaser. Expect sugar, spice, and everything extra nice in their saucy descriptions of hot me…books.  They make TUL look like a virgin drinker.  Cheers to that!
Jess and Teagan's Bookish Questions & TUL Book Choices
1. If you could only read one author for the rest of your life who would you pick?
GOD, why do you have to be SO mean, ladies?!  Seriously.  Isn't one of you a librarian?  WTF?  We don't ask these types of questions.  Sigh.
Lets start with a bookish confession:  In my youth, the answer, hands down was: Nicholas Sparks.  Head down, walk away, ashamed.  Well, no, not really embarrassed here but I have to say that. Gotta keep my street cred.  Many of us read The Notebook in our high school freshman honors English class and Nicholas Sparks spread like peanut butter on my jelly sandwich.  In fact, our open-minded English teacher said, "Give me a break. Read something else for goodness sake."  So I switched to Mary Higgins Clark.  Evil laugh.
[bctt tweet="Many of us read The Notebook in our high school freshman honors English class and Nicholas Sparks spread like peanut butter on my jelly sandwich. " username="theuncorkedlib"]
As a mature and educated adult, cough couch, my one author would have to be Janet Evanovich.
Or Bill Bryson
Anthony Bourdain
Charlaine Harris
Richard Russo
Oh, corkscrew you book tag.
Stephanie will clearly never ever pick Ranger or Morelli–am I right?!–so we have to keep the insanity going.  What if Grandma Mazur dies or Lula stops eating fried chicken?  I cannot miss that.
2. What fictional world would you NOT want to live in and why?  
What fictional worlds have monkeys?  I freaking hate monkeys.  Nasty, mean, biting, god awful rabid beasts from hell.  I don't read anything similar to Planet of the Apes–shiver–but since I cannot think of a book that I've read with these monsters, lets go with: Vassa in the Night by Sarah Porter.  Folktales written like Vassa in the Night scare the living rainbow farts out of me.  Chopped off minion hands, ghost riders, and kids that come into a store just to get their heads chopped off and staked.  This is teen fiction, y'all, and I about peed my pants.  No sleep for you tonight, Christine.
I am such a rule breaker.  My second nightmare world is Neal Shusterman's Scythe because lets face it, I'd have to cut you down–for the sake of society.  Best friend, parents, husband.  Just sayin.'  Like The Hunger Games, a girl's gotta do what a girl's gotta do.  HOW AWFUL IS THAT?
I'm also currently reading Bill Aicher's, The Unfortunate Expiration of Mr. David S. Sparks.  The world is attacking back.  I'm not sure I'd fair well.  They just pulled a foot-long worm out of David's eyes, and I threw up in my mouth a little.
3. What three books would you like to turned into a movie or TV show (let's pretend it would be a good adaptation)?
Librarians and bookworms don't watch TV, obviously.  Quietly gets up to turn off Orange Is The New Black on Netflix… 
Honestly, this has already happened for me with the Sookie Stackhouse series, The Handmaid's Tale, 13 Reasons, Crazy Rich Asians, Big Little Lies, and apparently now To All The Boys I Loved.  Clearly, I have fabulous taste so take notes as my choices would be:
---
Check Out TUL Book Review For A Long Goodbye here.
---
4. What is your book pet peeve?
Librarians who don't read, ever, and don't like reading.  They do exist.  I worked with them.
People who diss Twilight and Fifty Shades just to sound cool.  It's OK to hate but no peer pressure.  Personally, I enjoyed both titles for the interest they sparked in reading.
Authors who inadequately write about another race and gender yet think they are nailing open-mindedness and progression.  Basically authors who advocate for the stereotypes and prejudices they claim to fight against.
People who see me reading a book on the beach, sit next to me, and blast music while they are in the water the entire time.  Are you only children?  Cause I am, and I have morals.
Oh, and stained library book pages.  You know, with food…or blood. Barf.
5. What is your secret guilty pleasure read?
I will read any delicious popular lit madness that is in the spotlight, and of course, contemporary teen romance.  But I have absolutely no feelings of guilt whatsoever. I jumped into the book queue for Girl On The Train, The Woman in Cabin 10, and Gone Girl.  Brandy Snow Wood's, Meant To Be Broken, bring it on (review here).  Love and Gelato and One Paris Summer, come to me.
OH WAIT, and The Crossfire Series… I mean who doesn't love rough love and soft raunch playing in your car with your 90-year-old grandmother sitting next to you.  Just kidding.  Maybe.
6. Which popular book is your least favorite and why?
By premise alone, I should have loved this title but I just had to skim to the end: The Unlikely Pilgrimage of Harold Fry. I am a horrible person.  I also didn't care for The Luckiest Girl Alive or The Girls.  Sorry not sorry.
My Book Choice Questions:
Which character would you love to be in a long-term relationship with?
Which character would you have a one night stand with?
What classic puts you to sleep every damn time?
Would you date/marry someone who does not read books?  And does his/her/their book choice make or break it for you?  What books on his/her/their shelves are deal breakers?
Who is your favorite indie author?
What book gets you most in the mood to travel or fulfills your wanderlust?
Did you really like Harry Potter?  Really?
Can and have you read books with animals that get hurt or die?  Tell me which ones so I can never EVER read them, please.
I'd love to hear some of your answers in the comments.
Tag, You Are It and Must Complete This Chain Letter or Else The Flesh-Eating Unicorns Will Descend: 
The Bibliovert
Kaleena @ Reader Voracious
Rae @ Thrifty Bibliophile
Share The Book Love!  Pin It!