Are you looking for love stories this season? Check out these adult and young adult fiction books about love in unique places from the best book bloggers, bookstagrammers, and librarians.
---
Disclosure
:
This site contains affiliate links for products and services I recommend. Read my Disclosure for more information. If you make a purchase through these links, at no additional cost to you, I will earn a small commission. Thank you!
Truthfully, I rarely read romance novels.  I should probably incorporate a few into my reading list this year.  However, love stories with unique settings and meaningful lessons always touch my heart.  This bookish traveler devours tales about love in the most unusual spaces, including tails themselves.
From bookstores and hospitals to Scotland and the United States, find love stories amongst people, animals, books, food, and within ourselves.  With titles submitted from some of my favorite bloggers, bookstagrammers, and librarians, see what books about love stayed in our minds and hearts.  Discover love stories that make you cry, laugh, and stay up all night.
P.S. I hope these suggestions make you fall in love again whether it be with yourself, each other, and/or the world.  Ok, and maybe a taco.  Every time I travel, I find myself creating my own love story with the world and a sparkling glass of wine.
[bctt tweet="Are you looking for love stories this season? Check out these adult fiction and young adult books about love in unique places. #lovestories #booklovers #booklist" username="theuncorkedlib"]
Love Stories: 8 Books About Love In Unique Places
Love Stories: How to Walk Away by Katherine Center
Submission by Rae of Thrifty Bibliophile
Margaret Jacobson has it all—a wonderful family, a great job, and a fiancé she adores. All of that comes crashing down when an accident dramatically changes her life. Margaret struggles emotionally in the hospital as she comes to term with how the events of the accident unfolded. Her beloved life goes up in smoke, and she questions her future.
Enter her physical therapist.
Margaret's physical therapist, Ian, doesn't let her wallow in pity. The hospital even fears that he's "too mean." But he's exactly what she needs to heal.
Finding Love In Yourself And A Hospital
In How to Walk Away, Margaret finds love twice over:
First, she learns to love herself. Through a horrific accident, Margaret finds self-acceptance and a new passion for life. She learns that she's stronger than she ever gave herself credit for, and she grows to love the person she's become.
Second, she finds love in the hospital. Battered, bruised, and broken aren't exactly the trappings for a romantic beginning, but this is exactly how Margaret finds love. I adored the sweet romance in this book. It made me smile. It wasn't overt or in your face—it was subtle.
I enjoyed reading How to Walk Away, and I think it fits "finding love in unique places" perfectly. Margaret found love when she wasn't looking for love–during one of the worst times in her life—and through tragedy, she also learns to love herself.
Find your copy of How To Walk Away by Katherine Center here:    Amazon       Barnes and Noble     Book Depository
Rae is a talented bookstagrammer and book blogger for Thrifty Bibliophile. You can check out more of her great work on Thrifty Bibliophile's Bookstagram.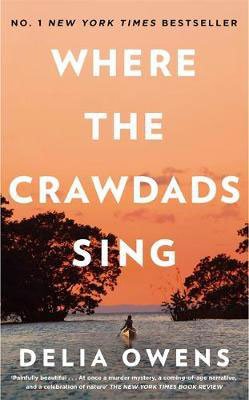 Books About Love: Where The Crawdads Sing by Delia Owens
Submission by Hayley of Backpacking Bookworm
Though not primarily a romance story, love definitely plays a huge part in this wonderful novel by Delia Owens.
Kya lives an isolated life in a simple shack bordered by marshland with only the gulls for company. She craves the love of another person but struggles to open up ever since her entire family abandoned her as a child.
That is until Tate shows up. With a love for marine life, he spends a lot of time exploring the marsh that Kya greatly admires. Over the course of time, he and Kya leave mementos for each other, sharing their love of the swamp and wildlife.
As their friendship blossoms, Kya starts trusting Tate and he becomes a permanent fixture in her lonely life. That is until, like everyone else in Kya's life, he leaves one day and doesn't return.
Finding Love In The Marshes Of Rural North Carolina In The 1950's
Kya symbolizes finding love in unique places.  She is the unlovable 'marsh girl', who believes she is destined to a life alone, confined to her deserted shack. People in the nearby village view her as a thing, an enigma, a vicious creature not to be crossed.
But Tate doesn't see that. He sees a young girl with an incredible understanding of nature, sharing his passions for marine biology. He gradually builds a relationship with her, taking it slow, knowing her immediate instinct is to hide from outsiders. Tate bitterly regrets not going back to Kya during his breaks from college and knows he has disappointed her in ways he will never fully understand.
Where The Crawdads Sing is a beautifully poignant novel with a strong female lead. It explores themes of loneliness, neglect and survival in a discriminatory society. It is about one girl who simply wants to be accepted and loved.
Read More About Where The Crawdads Sing→
Hayley is a book and travel blogger for Backpacking Bookworm.  You can follow along with her bookish reading challenges on Backpacking Bookworm's Instagram.
Love Stories For The Movies: Marley & Me by John Grogan
Submission by Rachael of Pingel Sisters
When Christine asked for me to make a recommendation for the best books about love, she probably wasn't expecting me to pick a book about a dog. And not just any dog. The world's worst dog.
To be honest, I don't even like dogs. Like … at all. I tolerate well-trained dogs, but there is no way on earth I will ever have one.
Even for a non-dog person like me, Marley & Me is one of the most heartwarming and hilarious tales that everyone really should read.
Marley's antics are absolutely hilarious. You will laugh so hard at all the havoc he wreaked upon his family. Repeatedly destroying all the furniture and failing out of obedience school is just the tip of the iceberg when it comes to the misbehaving Marley.
Finding Love In Your Own Home In A Wagging Tail
But the love that springs up between Marley and his owner despite Marley's many flaws is so touching. Now, that's a true love story.
Fair warning, though. You'll want to carry a pack of tissues. Even though Marley's death from old age is no surprise by the end, I promise you'll be bawling your eyes out reflecting on the wonderful life of the "world's worst dog."
So if you are in the mood to read some love stories, don't forget your ever-faithful, four-legged friends.  As Carrie Underwood sings in one of her songs, "The more boys I meet, the more I love my dog."
Find your copy of Marley and Me by John Grogan here:   Amazon      Barnes and Noble     Book Depository
If you are looking for great book lists, reading challenges, and an online book club, check out Pingel Sisters Pinterest and website.
YA Love Stories: Tell Me Three Things by Julie Buxbaum
Submission by Melanie, Public Reference Librarian
Love can be confusing and strange. Especially for Jessie. Two years after the death of her mother, Jessie and her father have relocated from Chicago to Los Angeles…to live with his new wife and her teenage son.
In addition to this new life and relationship, Jessie is starting her junior year of high school friendless and in a totally foreign place. She finds comfort in texting her best friend back home and in the small, local bookstore that she eventually ends up working for.
It isn't until the mysterious emails from Somebody/Nobody start showing up that Jessie starts to really feel like she might belong. This mysterious "friend" and fellow Wood Valley High student is a lifeline for Jessie, encouraging her to make friends in the real world while allowing her to be herself online. They end their chats by telling each other three things about themselves.
Finding Love On The Internet In L.A.
As their conversations deepen and evolve into something more meaningful than mere flirtation, Jessie insists that she wants, perhaps needs, more from her mystery friend. She wants to meet in person. And she's pretty sure, or at least hopeful, that she knows who he is.
Tell Me Three Things is an adorable first Contemporary YA by Julie Buxbaum. In the span of 328 pages, Jessie deals with the loss of a parent and relocation, almost losing her best friend, feeling alone and awkward in a new place, and first love. There are some bumpy parts along the way: snarky attitudes, mean girls, stereotypes, awkward encounters. At the end of the day, though, Tell Me Three Things is as sweet as the heart-shaped waffles on its cover.
Find your copy of Tell Me Three Things by Julie Buxbaum here:   Amazon      Barnes and Noble      Book Depository
Melanie is a rad librarian living in the sunshine state and a gal after my own heart.  She loves books, travel, and all of Epcot's boozy fun festivals, which she shares on Instagram.
---
Enjoying These Love Stories? Check Out These Great Book Lists, Too:
Inspirational Books For Writers
Travel Writers For The WanderLOST Soul
Books That Make You See The World In New Ways
---

Historical Fiction Love Stories: All the Light We Cannot See by Anthony Doerr
Submission by Lauren from Literary Dates
When I consider books about love, the well-known quote from Maya Angelou comes into mind: "I've learned that people will forget what you said, people will forget what you did, but people will never forget how you made them feel."
It's been a long time since I read All the Light We Cannot See, but I remember that I felt the urgency of love while I read it. It was palpable. You'll never forget how a book made you feel.
Is this one of many great love stories? That is up for interpretation.  A beautiful point in the story is when "Clair de Lune" plays over the transmitter radio. Listen to this song. I read All The Light We Cannot See while "Clair de Lune" played in the background and wish I would have thought to do that the first time around. I cannot say enough about how much I loved this book.
Finding Love During War
You'll follow the parallel lives of Werner and Marie-Laure. Werner grows up in Germany in the time period before World War II and Marie-Laure in Paris. Marie-Laure goes blind as a child, but her father's love and devotion help her to navigate this challenge. You'll read about the devastation of World War II and what Werner and Marie-Laure must go through to try to survive it. What brings them together? Love?
This is the kind of book that you hold close. You feel this book to your core and want to live in it. You'll want to be wrapped up in a cozy blanket with soft candlelight flickering, a glass of wine, listen to "Clair de Lune" (wait for the moonlight moment) and never let it go.
Find your copy of All The Light We Cannot See by Anthony Doer here:    Amazon    Barnes and Noble    Book Depository
You can follow Lauren's bookish travels, book reviews, and tours involving pages to places on Literary Dates Instagram.

Books About Love: The
Bookshop on the Corner 
by Jenny Colgan
Submission by Melissia of Books and Sassy Lilacs
The Bookshop on the Corner initially intrigued me with the title: a bookshop?!  Tell me more!  I had been stuck in a rut of suspense and thriller books, which I love, but sometimes you just need a good smile or cry rather than trying to figure out who did it.   In addition, I listened to it as an audiobook and is set in both England and Scotland so it came with some amazing accents.
The story is about Nina, the sweetest librarian. Nina finds out they are closing her library, and she will be out of a job.  Nina is a book matchmaker and can't imagine doing anything else with her life.  She treats books as though they are alive and takes to rescuing them and keeping as many around her at all times.  Through a training class she takes as she is exploring the idea of what's next, she realizes her dream is to start a bookshop.
"Helping to match people to the book that would change their life, or make them fall in love, or get over a love affair gone wrong. And for the children, she could show them where to dive into a crocodile-infested river, or fly through the stars, or open the door of a wardrobe…"
Finding Love In Books And A Small Scottish Village
Her dream leads her to relocate to a small village in Scotland where she fills a book-shaped hole in the community and finds romance and friendships where she never expected to find it.
I was lucky enough to travel to Scotland in high school, and I fell in love with it.  I remember one moment where we were in Edinburgh with the windows open in our hotel room, and we heard bagpipes somewhere far off.
This book reminded me once again of the wonderful beauty, as well as the great isolation, that is Scotland.  Nina fell in love with Scotland and the people she found there.  Scotland is a place where most things close before 8 pm, but living there you become a big part of a community.
If you want to be inspired to move to Scotland, to start your own bookstore, or perhaps find love in the most remote of places, then definitely read this book!
Find your copy of The Bookshop on the Corner by Jenny Colgan here:  Amazon     Barnes and Noble    Book Depository
You can follow Melissia's bookish musings and check out her book lists on Books and Sassy Lilacs' Pinterest.

Books About Love: The Gargoyle by Andrew Davidson
Submission by bookstagrammer extraordinaire, Jennia
In a whish of prose that tumults the reader directly into the story, The Gargoyle's unnamed narrator begins the tale by recounting the events that led to his life-altering car accident.
Once a fairly successful porn star, he has lived a life until now that is filled with the trappings of an E! Hollywood true story: parties, drugs, and shallow accolades that mask the rotting soul with its needs being pushed farther and farther away in a desperate search for further physical pleasures to fill the void.
Due to substantial burns and other injuries from the wreck, our narrator knows that this previous life is no longer attainable. Overcome with physical and emotional pain, he begins to plot his eventual suicide during the painful hours spent recovering in his hospital room.
Finding Love In Past Lives in 14th Century Germany
His suicidal musings are interrupted when Marianne Engel, known for her gargoyle sculptures, enters his hospital room. She draws him in with her storytelling, describing their past life spent together as lovers in fourteenth-century Germany. From there, her tales expand to describe those of other lives she has spent throughout the world and across time.
The narrator initially has misgivings while he listens to Marianne and doubts her mental sanity. Eventually, however, the tendrils of their past love steadily creep into their current lives.
Their contemporary romance truly begins when the narrator moves in with Marianne after his release. While Marianne's historical accounts remain an integral part of the narrative, their burgeoning connection immerses readers as they go about their day-to-day lives. However, as with any emotionally resounding storyline, it is slowly revealed that this incarnation may not have its well deserved happily ever after.
The Gargoyle proves that love stories extend beyond the initial rapturous intensity and lust-filled pursuits that often draw two people together. Instead, it is found in the slow, mundane hours spent together, the desire for our beloved to be happy and at peace, and in the defiance of even the rules of time to finally be reunited.
Find your copy of The Gargoyle by Andrew Davidson here:  Amazon     Barnes and Noble      Book Depository
Jennia curates a stunning bookstagram with beautiful titles and book summaries.

North of Happy by Adi Alsaid
Submission by Christine of The Uncorked Librarian
Late one night, Carlos and his older brother, Felix, decide to taste test their way through the food stands of Mexico City.  What for? They are in search of the perfect taco.
In a tragic accident, stray bullets kill the free-spirited, nomadic Felix.  Left with his brother's ghost, Carlos desperately needs to recover his own happiness.
During Carlos' high school graduation celebration, and faced with a well-intentioned but uninspiring predetermined future in the family business, Carlos runs away from his privileged life.  Heading to a small island off of Washington State, he does what many dream of: starting over and healing his heart.
Finding Love in Food, A Girl, And A Fancy Washington State Restaurant
With no plans except to visit Provecho, a bucket list restaurant in his brother's diary, Carlos must find a place to sleep and earn a living. In a matter of luck or fate, Carlos begins working as a dishwasher at Provecho.  He is taken under the wing of the master chef.
With the threatening promise of termination, if he does not stop dating her daughter, Emma, Carlos finds himself in a pickle.  Foodie joke intended. Carlos must learn to fit in and earn his keep while navigating mental exhaustion and new love.
A story about romance, trust, maturity, and ambition, North of Happy makes readers feel like they are experiencing life for the first time. As stars and lakes ignite in the moonlight, Alsaid envelops readers in his enchanting backdrops and heartfelt, raw emotions.
A beautifully written title for young adults and adults looking for change, North of Happy inspires and awakens questions about the meaning of our existence and self-love.  Alsaid adds poignant commentaries on grief and love that add an entirely fiery yet visceral quality to the story.
Recipes introduce chapters to exemplify the all-pervasive passion for food and the need for a fulfilling career. Days later, I found myself wondering about a conclusion and writing my own ending for Carlos, Emma, and the entire restaurant family as they touched my heart and stayed in my mind.  I think I fell in love, too.
Find your copy of North of Happy by Adi Alsaid here:  Amazon     Barnes and Noble    Book Depository
You May Also Like:
If you are enjoying these love stories, you can follow along with Christine's love for books, booze, and travel on The Uncorked Librarian's Pinterest.
---
What other love stories do you swoon, cry, and gag over?  Are there other books about love that showcase unique places that other readers might enjoy?  Please share in the comments.
---
I always love working with other readers to create diverse book lists, especially in subjects that possess many interpretations. When faced with the question of books about love and finding love in unique places, TUL contributors did not disappoint.
I would like to personally thank each writer for their time and thought on this piece.  I hope you, as the reader, found a new intriguing and inspiring book to read.  We'd love to hear your thoughts below.  Thanks!