Welcome to your hub for wanderlust inspired book reviews and tipsy and literary travels.  Learn more about The Uncorked Librarian and Christine here.
About The Uncorked Librarian
Where Books, Booze, and Travel Come Together
Wanderlust Book Blogger and Tipsy Literary Traveler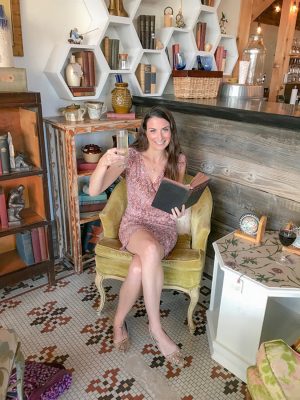 Hold on. Let me put down my glass of, uhhh… I mean this awesome book… Just kidding, and welcome!
The Uncorked Librarian, LLC (TUL) is a boozy blog about bookish and tipsy travel and travel-related books.
Why The Uncorked Librarian?
First and foremost, I (Christine) am a rogue MLIS librarian. I left the reference desk in pursuit of living a happier and more fulfilling life.  For me, this meaningful path is defined by my passions for travel, books, and living a cultured and free life. I desired more time for writing, yoga, projects that I wanted to create, and seeing my friends and family more.  And of course, wine.
I love sipping an oaked Chardonnay on a picnic table overlooking the CT fall foliage. Not to mention warming up with Glühwein at a German Christmas market or Dutch Jenever at a library bar in Amsterdam.  Sign me up. Add in a good wanderlust inspiring book and some travel planning, and I'm in heaven.  Did I just get distracted?  Whoops!!
Plus, I promise that I did not create this site to lay around in my LulaRoe leggings with my cats and drink wine all day. Sort of…
My goals with The Uncorked Librarian are to:
Share travel experiences to help other adventure seekers explore the boozy and literary world.
Spotlight well-written travel-related books by authors and publishers.
Help other bloggers gain a free and cultured life.  To spark confidence in their writing and help bloggers reach their true potential through a series of articles, tutorials, and resources.
Provide collaborative posts to expose readers to eclectic information and people. Showcase other reputable bloggers.
Make the world both a smaller and bigger place where we can all connect and build community to enhance our lives and treat each other with compassion.
Bring booze, books, and travel together.
To drink all the booze, responsibly…
What You Will Find On The Uncorked Librarian
Wanderlust Inspiring Book Reviews: Authors and publishers provide many of my global reads. As a passionate and avid reader, you can expect book reviews of current and older titles as well as soon-to-be-published reads for adults. I love making book lists set in destinations and showcasing global book lists.
Literary and Boozy Travel: Having traveled throughout the world to countries such as Indonesia, Italy, Brazil, Panama, Belize, Nicaragua, Turkey, Mexico, Germany, Belgium, France, Ireland, and Greece, you will find: boozy travel lists, unique local activities, literary guides, and travel tips paired with book lists.
Blogging Tips and Resources: A blogger throughout my life and newly minted female entrepreneur, I recently decided to share my blogging successes (and failures).  Find social media tips. Learn how to monetize your blog. Discover how to turn your blog into a full-time business and LLC.  Be sure to check out my always updated Blogging Resources Page.
More About The Uncorked Librarian, Christine
I am a MLIS graduate from the University of South Florida.  I have a BA in English and History from Smith College.  The travel bug completely took over after my year as a Fulbright Scholar in Depok, Indonesia.  In Indo, I taught English at a public high school.  Basically, I posed as Miss America for the year.  In reality, I played a lot of Uno, read the entire Sookie Stackhouse series, and stood in front of 600 students each week, wildly gesturing and sweating.  Best job and experience in my life to date.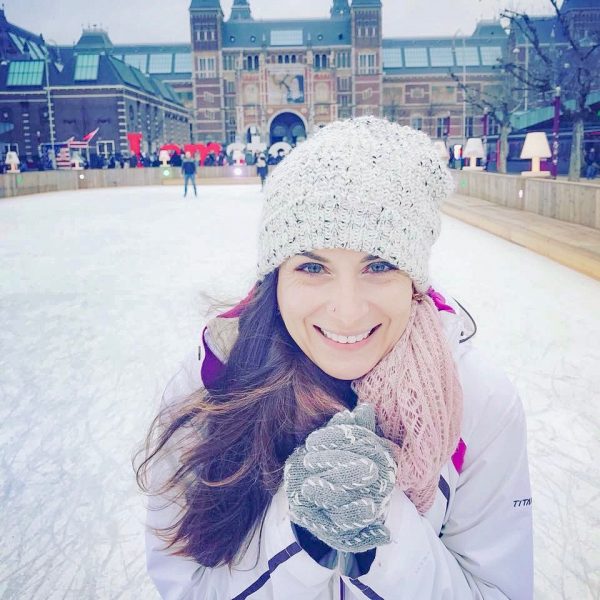 I hold certifications in TEFL and Youth Development.  In the office-like world, I possess more than 10 years of urban program management experience. My work focused on literacy and teaching.  In addition, I spent five years in the public library systems.  Gosh help me.
Today, I am a board member for a nonprofit that brings the joys of reading to families. When not promoting literacy, I parade around (more like beer down) as a pilot's wife with four furry children in Asheville, North Carolina. Obsessions include: YA books, brewery yoga, olives, decorating my home with owl everything, caticorns, and Sicily. I have a reputation for finding breweries and wineries anywhere I go–with no notice.
Oh, and I blog full-time.  As in 26 hours out of the day.
Want To Connect With The Uncorked Librarian?
I love to chat and share stories.  You can find me on:
How Can We Work Together?
Are you a publisher or author looking to have your book reviewed?  Please check out my Book Review Policy.
Are you a brand looking to collaborate?  See how we might work together here.
In need of a freelance writer, editor, or social media assistant?  Review my services here.