Salt to the Sea by Ruta Sepetys is a YA historical fiction novel set during WWII in the Baltics. Gain insight into the sinking of the Wilhelm Gustloff where more than 9,000 people perished.  Learn more about the effects of war on youth while discovering the atrocities committed by both Hitler and Stalin.
---
Disclosure
:
This site contains affiliate links for products and services I recommend. Read my Disclosure for more information. If you make a purchase through these links, at no additional cost to you, I will earn a small commission. Thank you!
CW: Rape, child death and pregnancy, and violence
Salt to the Sea is a title that I have quietly avoided for years.
Back in the day of long library commutes, I listened to Between Shades of Gray by Ruta Sepetys.  Between Shades is a similar tale of war-torn Lithuania.
With characters that cross over between both books, I knew that Salt to the Sea would prove its gut-wrenching reputation.  With far more deaths than the Titanic and Lusitania combined, encounter mass loss with the sinking of the Wilhelm Gustloff.  Bear witness to Hitler and Stalin both savagely tearing apart Poland.  Not to mention watching the Soviets advanced reign of terror over the Baltic states.
I also personally struggle with drowning stories as large bodies of water mostly terrify me.  Chalk it up to terrible swimming skills and childhood memories. Although a young adult title, I knew Salt to the Sea would be graphic and tragic, especially since Sepetys chooses to focus on youth during WWII.  This is not an easy read.
A Must Read YA Title and History
However, Salt to the Sea is truly an award-winning and not-to-miss novel.  True to Sepetys inspiration and agenda, she brings light to stories left in the dark.  Although the sinking of the Wilhelm Gustloff is the greatest maritime disaster in history, the tragedy receives less attention than the sinking of the Titanic.  By sharing the stories of 4 teens from different areas surrounding the Baltic Sea, Sepetys asks readers to remember and honor these brave and innocent souls.
Salt to the Sea
Summary
Meet 4 Youth During WWII:
Joana: A young Lithuanian nurse, Joana has fled from her home and left behind her family.  She is brave, selfless, and a skilled, multilingual nurse.  Empathy and compassion pour from her soul.  Part of Joana's story is a crossover with Between Shades of Grey.
Florian: A wandering Prussian boy on a secret mission filled with revenge and pain, Florian possesses hidden artistical talents.  He is mysterious, handsome, and cautious.  An orphan of war, he must choose whose side he is on while remaining alive.  Emilia coins Florian as "The Knight."
Emilia: Emilia is a young Polish girl who impersonates a dead Latvian woman to stay alive.  Pregnant and scared, she has seen more atrocities than most.  Like the red coat in Schindler's List, readers will never forget Emilia's pink hat in a grey world.
Alfred: The German 'soldier' who you want to smack, Alfred is an entitled, weak, and self-disillusioned young man in Hitler's army.  He offers one perspective of the German youth mindset and is such a ridiculous, selfish twat, that you literally want to smack him off the sinking ship.  Somehow, Alfred brings a comical aspect to the hideous nature of war.  Man, what a sexist pig and momma's boy, though.  He mentally writes embellished letters to the Jewish crush he betrayed.
A Story of Survival
The four teens meet in 1945 as three of them flee Soviet advances as the Nazi regime collapses.  Trapped between deadly leadership, Emilia, Florian, and Joana make their way to the port, looking for safe passage to Kiel, Germany.  Along the way, they add to their entourage of refugees a giant woman, blind girl, shoe poet, and parentless child.
Throughout the deadly journey, they face bombs, cruel soldiers, and a sea of ice.  They seek shelter in abandoned buildings and homes.  Unfortunately, you know that not everyone will make it–this is historical fiction based largely on true accounts.  The youth starve and face injuries while trying to find light in a simple berry or abandoned fireplace dance.
Once the youth arrive at the port, they face even more danger and hardships than on their trek there.  Everyone wants to escape the Soviet soldiers, but there is not enough room.  Desperation leads to more death and utter devastation.  Emaciated pets wander the streets.  Mothers attempt to throw babies on the ship, accidentally bouncing them off the sides to their early demise.
Even ensconced on the safety of warm boats, fleeing families face Soviet attacks and death.  Heartless submarines lurk, not caring who they shred apart.
The Wilhelm Gustloff
The three youth plus the shoe poet and small child receive passage on the Wilhelm Gustloff, a ship meant for around 1,500 people.  Once a glorious luxury boat, the gutted ship's sole purpose is to transport wounded soldiers, women, and children.  Now filled with over 10,000 refugees, the Wilhelm Gustloff has barely any walking room let alone proper life vests and boats.
Here, the youth run into the odd Alfred, who both helps and hurts them.
Destroyed by Stalin's torpedoes soon after departure, passengers find themselves trapped below deck on a quickly sinking boat.  Even those with life vests will freeze to death within minutes of the chilly water.
Who will live? And how will those who perished be remembered?  Historically, less than 1,000 passengers survived the sinking of the Wilhelm Gustloff.
Is Salt to the Sea for You?
If you like survival stories, historical fiction, or WWII narratives, Salt to the Sea will intrigue and capture your heart.  Although YA, this title will flood your soul.  Few authors truly capture the stark effects of war on youth–especially children who have no one to help them through it.
As an undergrad history major, I had never once heard or read about the Wilhelm Gustloff.  Leo didn't star in a movie even though this story is by far more disastrous. For some reason, the Baltic stories get left out of mostly eurocentric histories.  And why is that?
Many of the facts about the Wilhelm Gustloff are accurate.  Historians will enjoy reading a little more about the Amber Room and Operation Hannibal as well.
As a traveler heading to the Baltics in the spring, Salt to the Sea gave me insight into what was once Prussia and how Poland fared during the war.  Introduced to Lithuanian culture and history, I know that when I land in Vilnius and Kaunas, I will think of Joana.
A powerful and unforgettable read, if you read nothing else about the Baltics this year, I'd pick up Salt to the Sea.
Find your copy of Salt to the Sea: A Novel here:   Amazon    Book Depository   Barnes and Noble
Salt to the Sea Book Information
Salt to the Sea: A Novel by Ruta Sepetys [Philomel Books 2016]
Genre: Young Adult Historical Fiction
Ruta Sepetys writes to shed light on underrepresented stories and histories.  The daughter of a refugee and "seeker of lost stories," Sepetys wrote Between Shades of Gray, one of her most famous novels now made into a movie.  Between Shades of Grey is about a family pulled from their Lithuanian home by Soviet guards and their survival story.  Read more about Ruta Sepetys and check out Between Shades of Gray.
Add Salt to the Sea to your TBR queue. Pin it: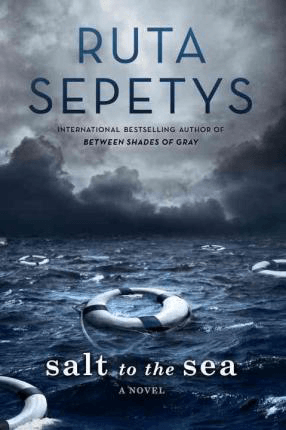 You May Also Enjoy:
Best Books About World War 2 For Adults & History Lovers
Holocaust Books For High School & Middle School Readers
Baltic Books To Inspire Your Next Vacation