Travel writers shape the way we see the world and inspire us to be better travelers.  These are 11 famous travel writers that create books for wanderlust.
Do you ever find yourself sipping Limoncello in an Italian piazza and hear whisperings of Frances Mayes, author of Under The Tuscan Sun?
Remember how she writes about the church bells dinging in her dreamy postcard home?  Or how she hopped on a bike to Positano in a moment of passion?
In a flowing white dress, Mayes calls up to her lost lover, Marcello.  A scene I may have recreated one night before dinner in Positano after seeing John Stamos.  Luckily, my husband has a fun sense of humor.
Disclosure
:
This site contains affiliate links for products and services I recommend. Read my Disclosure for more information. If you make a purchase through these links, at no additional cost to you, I will earn a small commission. Thank you!
What about sitting on a train through the rice paddies of Indonesia? Can you hear Anthony Bourdain narrating on the beauty of life, people, and food?
Or, while taking a long hike in the woods, do you feel like you might just drop right there?  I daydream of food and pretend Bill Bryson and Katz are stumbling next to me.  Katz is plastered, of course.
Famous travel writers shape the way that I see the world and motivate me to be a better traveler.  They whisper inspiration in my ear while I am abroad: their words wrapping around my heart and soul.
These are 11 famous travel writers with inspirational books that make me fall in love with the world each time I read their travel stories.
11 Famous Travel Writers Who Inspire
As a former librarian, nonfiction is sometimes overlooked.  Not to make a raging stereotype, but the trend seems to follow that the older we get, the more nonfiction we read.  I know that as I mature in age, cough cough, I find myself wanting to learn more from memoirs and biographies.  Research and books that improve or enhance my life inspire and guide me.
As soon as I started traveling more after college, I devoured books by travel writers, famous and lesser known.  Others' travel stories taught me how to be a conscious traveler.
Through the authors' travel writing examples, like Bourdain and Bryson,  I grew to see the world through new eyes.  Experienced, hesitant, real, sarcastic, and even hurt eyes.  For me, travel transformed from taking pictures of new places to experiencing life, connecting with humanity and purpose, and growing as a person.
These are six famous travel writing authors who I look to for self-growth as well as entertainment:
1. Inspirational Travel Writers: Bill Bryson
I would love to publish a book in my lifetime.  When people ask me who I idolize or write similarly too, I have to say Bill Bryson.  One of many talented UK travel writers, Bryson is filled with nostalgia, intelligence, and sarcasm.  Witty and fun, I relate to Bryson and appreciate his historical context mixed with pure authenticity.  Facts and snippets of information are integral to his innate storytelling.  Yet, he is also your average, or even less than average guy, just telling it like it is.
Although In A Sunburned Country feels a little sunburnt to me, A Walk In The Woods cracked me up and started my love affair with Bryson.  Certainly resembling my 'hiking' experiences, I too would have a rather foolish but sincere trip down the Appalachian Trail.  Not a title to miss and a small movie also popped up in 2015.
I equally loved The Life and Times of The Thunderbolt Kid.  A story that time travels readers through growing up in the 1950s, The Life… demonstrates a pivotal and expanding U.S. nation through the eyes of a daydreaming, rambunctious kid.
Bryson also writes about the history of the world, his British home, and adventures traveling around the world.  Read More→
See Amazon's selection of Bill Bryson books.  Be sure to check out Bill Bryson's author page, too.
2. Travel Memoir Writer: Elizabeth Gilbert
Eat, Pray, Love may seem a tad cliché for this list.  I cannot resist talking about the title, having lived in Indonesia.  My best friend and I even made the hike to meet the real Wayan that Gilbert sought for advice and friendship in Bali.  Having our futures told and skin cleansed, I will never forget that literary journey.  Read about my Indonesian travels in the Versatile Blogger Award I received.
I also don't know how human you are if you never go through your life not wanting to drive parts of it off of a cliff.  Just a little.  Maybe even once.
I'm not saying that we should all hate what we do or need to get divorced.  Sometimes we desire a change.  I know on a few occasions, I've looked in the mirror after working a terribly shitty job and said: Who are you?  Sometimes we get lost or busy.  Sometimes we are unhappy.
Gilbert takes action.
Quite frankly, who doesn't want inspiration in the form of pasta and meditation?  Italy, India, and Indonesia are the perfect locations to re-experience life.
Gilbert doesn't just write about taking chances and escaping to find oneself, either.  Committed discusses honest marriage commitments with an international relationship and through past distrust.
Her newest, Big Magic: Creative Living Beyond Fear, is on my to-read list.  Author Jennifer Ann Shore talks about Big Magic as one of many inspirational books for writers in order to climb mental mountains in search of creativity.  Read More→
Be sure to check out Elizabeth Gilbert's site, too.
3. Inspirational Travel Writers: Jack Kerouac 
A classic and popular author, Jack Kerouac is most famous for On The Road.  Naiveté paired with hope, On The Road is a fictional travel story about recklessly hitting the road across the United States.
Based on Kerouac's real adventures and like Bryson, the story captures the heart of the baby boomer generation.  Hedonism, experimental drugs, freedom.  Although I did not love the storyline as much as others, On The Road is a title I will revisit in the future.
Jack Kerouac has multiple other titles about locations specific to the United States, including California in Big Sur.  He discusses and portrays life with alcoholism and anxiety in his later works and also dabbles with fantasy.
Personally, Dharma Bums has been my favorite so far with its Buddhist and outdoorsy themes.  What inspires about Kerouac is his authenticity and messiness.
Are you a Kerouac fan?
Search Jack Kerouac books on Amazon.  Learn more about Jack Kerouac.
4. One Of Many Infamous Travel Writers: Anthony Bourdain
Anthony Bourdain introduced me to travel writing. Sparking my wanderlust, I wanted to see the world through Tony's eyes and then through my own.  Raw and uncensored, he cooked, ate, and had a tumultuous early life with drugs and the chef's life.  Finding success in telling travel stories, he wrote cooking and travel books that resonated with restless and curious souls desiring more than just pretty places.
Kitchen Confidential propelled Bourdain into fame as he discussed what weekdays to avoid ordering fish, bashed vegans, and took readers behind the scenes of chef life.  A Cook's Tour transported readers around the world on a foodie tour about dining and culture.
My bookshelves are filled with Bourdain titles, ones that I will never donate.  I religiously watched No Reservations and Parts Unknown.  Bourdain will forever travel with me as he took the time to get to know the world at its best and worst.
I can only aspire to be half of the great travel writer that Bourdain showed us.
Find even more books that will make you think more deeply here.
See Amazon's selection of Anthony Bourdain books.
5. Memoir Travel Writer: Cheryl Strayed
At 22-years-old, Strayed's world falls apart with the death of her mother and a failing marriage.  In a less picturesque manner than Gilbert and in a Bryson-like hiking experience, Strayed decides to conquer the Pacific Crest Trail alone.  The PCT is a beast.  Strayed faces an incredibly raw and hard journey while reflecting on her past in her memoir, Wild.  
Of course, a shoe goes a' flying, too.
Author of four books, Strayed talks about love, compassion, learning, and forgiveness.  She encapsulates the idea of coming back from hardship.  Like many others, a walk in the woods is a walk into the soul.  A little fresh air can heal us all.
Check out Cheryl Strayed books on Amazon.  Don't forget to visit Cheryl Strayed's author page, too.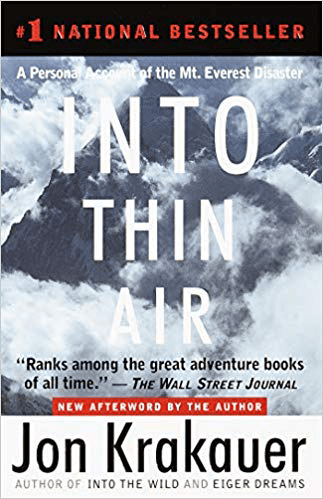 6. Popular Travel Writers: Jon Krakauer
Krakauer transcends typical memoir with his poignant life undertakings.  Into Thin Air is about his fight to stay alive on Mount Everest during an extreme snowstorm.  Heart-wrenching and chilling, you also find passion and the desire to experience the world.  Dangers be damned, we have to take chances.  We have to live beyond our fear.
In another famous story, Krakauer looks into the heart and soul of Chris McCandless, a famous young hitchhiker. Into The Wild describes the life and untimely death of a kind man craving more from life than possessions and money.  Like Kerouac, McCandless is free-spirited and slightly reckless.  Unfortunately, his naïveté kills him.
You can read more about Krakauer's titles in TUL's best books to give your dad book list. Any traveler and explorer can appreciate their more humble messages.
Find your next Jon Krakauer books.  Check out Jon Krakauer's webpage, too.
Lesser-Known Inspirational Travel Writers
Along with famous travel writers, there are a plethora of lesser-known travel authors.  Granted, these are not the most obscure. I have suggestions for extremely off the beaten path travel books that I need to compile.  However, these authors have books for wanderlust that are easy to obtain and equally important to the travel writing canon.
7. Books Make Into Movie Travel Writer: Frances Mayes
Most people have watched Under The Tuscan Sun.  Hop on a gay tour bus as a straight woman, find a house in Tuscany, write, and meet a few handsome lovers?  Sign me up.
Under The Tuscan Sun and A Year In The World are two titles that chill on my shelves.  A Year In The World tours readers through art, architecture, and the history of Europe in a beautiful memoir.  Under The Tuscan is the stuff dreams are made of.
Find Frances Mayes books on Amazon, and visit Frances Mayes' webpage.
8. Inspirational Travel Writers: Pico Iyer
I have to start reading more Pico Iyer books, as my brain is a tad fuzzy on Iyer these days. Iyer is unique to the travel writing world because he was an intimate friend of the Dali Lama.  In The Open Road, Iyer encourages readers with all beliefs to explore the ideas found in Buddhism and life.
Iyer also traveled across the world to places like Ethiopia, Kathmandu and Cuba. With commentary on home, life, and our institutions, Iyer adds a global quality to our soul through his musings and studies of mankind.
Check out all of Pico Iyer's books.  Visit Pico Iyer's website.
9. Classic Travel Writers: Mark Twain
Were you expecting to see Twain?  Growing up in CT, I was fortunate to have the Mark Twain House nearby my home for inspiration.  Twain is more than [amazing] classics like Tom Sawyer and Huckleberry Finn.
The Innocents Abroad is Twain's journey on a ship across Europe to the Holy Land.  Reflecting on culture and religion, I always see Twain as a founding travelogue writer. Twain birthed one of my favorite travel quotes:
"Travel is fatal to prejudice, bigotry and narrow-mindedness, and many of our people need it sorely on these accounts."
How true is this today?
Grab your next few Mark Twain books here.
10.Diverse Travel Writers: Audre Lorde
As a writer, feminist, librarian, and civil rights activist don't miss Lorde.  In Sister Outsider, a book my undergrad college professor suggested reading, Lorde talks about her "blackness," feminism, and feeling like an object of interest in society.   In one of Sister Outsider's essays, she describes what it is like to be a person of color in Russia.  People see her as mysterious and different, in both good and bad ways.
Similar (but also different) from Jamaica Kincaid and her discussion of "otherness" in A Small Place, Lorde adds an element of race, gender, and culture apart from tourism.  Although not solely travel writing, Sister Outsider includes essays about Russia, Grenada, and America.
See all of Audre Lorde's books.
11. Political Travel Writers: Ernesto Che Guevara
With the movie out in 2004, The Motorcycle Diaries grew in popularity.  The story follows 23-year-old Ernesto Che Guevara in a travel journey across Latin America.
Starting on a motorbike, Guevara and his friend crave more of a worldly education than that of their college studies.  Across countries, Guevara gains a newly found political consciousness and perspective.  He discovers a life filled with oppression, poverty, and inequality.
Guevara's youthful travels shape his revolutionary ideas and trajectory.  Although some of his actions and ideas are terribly controversial and extreme, his journey is certainly worth studying.
See Ernesto Che Guevara's books.
Travel Writing At Its Core
The list of famous travel writers is truly endless.   As we enter a new age with 20 to 30-year-olds demanding more meaningful lives, I have no doubt that we will see a new wave of travelogues.
One of my favorite genres is travel books and stories that inspire conscious tourism and wanderlust. Of course, I love a good travel blog too.   Although we hear it all too often, the world is our schooling.
What travel writers do you love to follow?  Who inspires you?
You may also enjoy this nonfiction memoir about creativity.
Reading Lists Just For You
LGBT YA Books
Anti-Valentine's Day Books About Love
Audiobooks For Fun Road Trips
Literary Decor Ideas For Your Home
Books That Inspire Indie Writers
Best Books For Dad
Top WWII Books