I once read that as a blogger, you should spend 20% of your time writing and the other 80% promoting your work. Leery, especially since I spend hours upon hours writing posts, I debated this advice. However, you can create the best content and still receive little blog traffic. You need to be your number one cheerleader and get yourself out there, especially if you want people to read your brilliant posts. Plus, I am a huge advocate for working smarter versus harder—a practice that I am improving upon as a now intermediate level blogger. So where should you promote your blog and network with others to get the most out of your hard work?
While I have a presence on every platform—Google Plus, IG, Twitter, Facebook, Pinterest, you name it—two platforms have significantly helped boost my blog traffic: Facebook blogger support groups and Pinterest group boards.  These social media gems are my two highest achieving platforms and where to promote your blog if you want to explode traffic.  Pinterest and Facebook also introduce a sustainable form of engagement: not just follows for follows and likes for likes.  Both platforms circulate your content for a much larger audience.
Disclosure
:
This site contains affiliate links for products and services I recommend. Read my Disclosure for more information. If you make a purchase through these links, at no additional cost to you, I will earn a small commission. Thank you!
Where To Promote Your Blog and Network: Facebook and Pinterest
Facebook
FB Business Page
Facebook is a tough platform to crack. I always recommend having a Facebook Business page for your blog because users will look for you on every platform. Your FB Biz page is public and allows you to still maintain your private 'you' FB profile too. When I first started, I had a basic and incomplete FB business page.  Right after one of my very first reviews, a bestselling YA author tagged that page in their account. Embarrassed, I rushed to fully set up my page to look professional enough until I had time to go back and clean it up. I missed out on a lot of traffic that day. The point: you truly need to be ready everywhere and present.
With that warning, Facebook algorithms are a lot like IG—which makes sense since they are now jointly owned. The similar popularity and engagement system also means exposure for smaller accounts blows chunks. Many of my FB biz posts flail and drown in the algorithm.  My followers see little of my content, especially if the post is a direct share from my site and not organic. However, when the local businesses of a town that I write about share my post, my reach and impressions spread like excited Disney fans learning about the passholder cutting board reward this year at Food and Wine. Wildfire, baby, wildfire.  Everyone knows it's out there.
Blogger Support Groups on Facebook
Even better is when other bloggers share my posts via FB. These past few months, I joined at least 15 Facebook groups to start networking and sharing content with other bloggers. Many of these groups have Facebook threads specifically for sharing social media on relevant days. For example, Monday might be a twitter share thread where you leave a tweet and then retweet 5 other accounts' top posts. Wednesday may be Pinterest day where you leave a pin that you want shared in exchange for re-pinning 10 other pins that interest you.  Pinterest sharing is gold for me.
You might find yourself asking: Is this form of sharing and engagement cheating? No. Networking and supporting other bloggers is a part of the blogging community. I repin content that is relevant to my niche and provide great articles and exposure to other accounts that my followers will equally enjoy. The sharing system is a win-win for everyone. Plus, I can see what is trending and learn from others. Like the chronic illness community, we all need a support system.
Be kind, follow the rules, and you get what you give:
Below are my 10 favorite and most helpful FB groups to-date. Note that anyone can join. Sometimes you have to answer questions, and you definitely have to follow the rules. Don't be a twat: sharing is caring and there is such a thing as blogger etiquette. The community is watching.   Don't spam and usually never post a direct affiliate link. Some forums are stricter than others.  Even I get intimidated at times, and yes, you can get booted out of a group with no warning.   Note that not all of these groups are designed solely for sharing. Many are also forums to reach out and help others. You can ask questions and learn so much from other bloggers. You get what you give.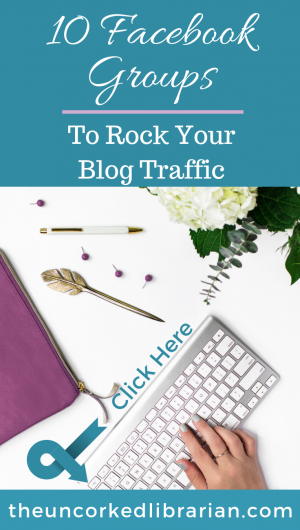 10 Productive Facebook Groups To Boost Your Blog Traffic:
Growing Social Media For Bloggers
Think Creative Collective (more for business-related questions vs social sharing)
I know people who join 50 of these groups and spend hours a week sharing posts this way.  Many keep spreadsheets.  I am not there yet, but I promise these will get your content out there, especially for newer bloggers.
---
Looking For More Blogging Advice?  Check Out These Posts on TUL:
Turning Your Blog Into A Business
Why Start A Book Blog?   or  How To Start A Kickass Bookstagram
Ugly Instagram: How To Avoid IG Scams
How To Stay Healthy And Sane As A Blogger
---
Pinterest
Pinterest Business Account
Why do I always feel like I am spelling Pinterest wrong? For those of you who don't know, Pinterest is a blogger's dream. Besides direct traffic and the occasional minimally viral FB post, Pinterest is my #1 traffic source. Like FB, you need a business account to best succeed, and you must brand your Pinterest page. SEO is key here. The general public use Pinterest to shop and get ideas. You can check out my account here.
To learn more about Pinterest, I highly recommend taking this Pinterest course by Boss Girl Bloggers,' Ell Duclos. My Pinterest views went up to 200K in a month and are increasing daily.  This reach translates to engaged blog traffic. I also recommend a yearly subscription of Tailwind. Time and life savor. Worth the $100+ a year? YES! Schedule at least 30-50 pins a day, and you will see your traffic increase.
Why Group Pinterest Boards?
What is a group Pinterest board? Bloggers and writers created group niche boards where select pinners can contribute their top work. Other bloggers and all of the pinners' followers have access to that content and board to re-share as well. Joining group boards puts your content out there to literally millions of people. Like FB, these boards have rules that you must read in order to join. Some may limit contributors, and I always recommend looking for boards that have at least 1,500 to 2,000 followers. Again, sharing is caring. You are not supposed to leave your pins and run. Leave a pin; share a pin.  Group boards like vertical pins and creative content.
On one last note, my Pinterest boards are currently receiving higher return rates than group boards. This is the case for many Pinterest accounts, which you want to happen. You also want to track how well your group boards are performing and drop those that aren't serving you or performing well (Tailwind is great for Pinterest analytics). These are the top 10 Pinterest group boards that I love:
Where To Promote Your Blog?  10 Group Pinterest Boards:
Travel Bloggers Uncorked (Owned by TUL)
Best Book Bloggers Uncorked (Managed by TUL)
Literary Travel Uncorked (Managed By TUL)
Rah! Rah! So Are You Ready To Promote Your Badass Sh*t!
I hope that these platforms help boost your blog traffic too. The blogging community is kind and supportive. Definitely take advantage of the people you meet but don't take them for granted. Connections and networking are everything. The more help and support you give, the more you get back.
Let me know if you have other favorite groups that have been essential to your blogging career or if you would like to be added to any of my group boards.