This post may contain affiliate links for products and services I recommend. If you make a purchase through these links, at no additional cost to you, I will earn a small commission. Read the full disclosure here.
Are you wondering how to make money blogging? Check out these affiliate marketing for bloggers programs that are easy to join as a newbie blogger.
Consider How You Can Make Money Blogging
As you know, I am an advocate for living a life of fulfillment and happiness. A life that you are excited to wake up to, are passionate about, and love.
For me, that life is about blogging: helping other bloggers, reviewing new books, and sharing unique travels.
As I grew up, making money blogging and turning my passions into a remote career seemed impossible. How could anyone make money blogging?
Within the past two years, I began learning and studying successful bloggers who make anywhere from $10,000-$120,000 a year. Many of these bloggers, freelancers, and digital nomads offer digital courses, sell products, and secure income through numerous social media channels.
At times, the overload of information is overwhelming. Where do you even begin or how do you start to make money blogging? For me, affiliate marketing for bloggers is one of the easiest ways to monetize a blog, and you can start right away.
While this post will be a down and dirty version of affiliate marketing—I will gear a few programs toward book bloggers, specifically—I hope you find one or two new affiliate programs and better understand how to incorporate links into your posts.
Affiliate Marketing For Bloggers
What You Need In Order To Start
I originally made some pretty costly flaws when I started monetizing my blog. Before I delve into affiliate marketing for bloggers there is one key step that you should take before monetizing your blog and applying for programs.
WordPress: .Org versus .Com
Back when I created my hobby blog for The Uncorked Librarian, I used wordpress. com. I bought a pretty theme, and I paid for the cheapest hosting plan. WordPress. com still allowed me to register my own domain at theuncorkedlibrarian.com for a few extra dollars versus using theuncorkedlibrarian.wordpress .com.
Even though I had no goals to monetize at the time, I wanted to look professional and accessible without having 'wordpress' in my domain name.
The Limitations Of WordPress .Com
When I begin realizing that I loved blogging and wanted to make writing my full-time career, I quickly ran into limitations with the .Com version. Don't get me wrong, I still use WP .Com as part of Jetpack to read other wordpress blogs, pair stats against Google Analytics, and add some neat features to my blog like WP likes and the Goodreads widget. However, although you can pay more to allow monetization on your .Com site, features are still limited.
You have little control over your site and what you can monetize.
SEO isn't great
You can't create an online shop
Overall, you cannot take your site to the next level.
For these reasons, I switched to self-hosting through SiteGround and wordpress. org.
The Benefits of Using Web Hosting And WordPress. org
When you make the switch to wordpress. org, WP still looks and feels the same except you need a web host, and of course, you will have much more control over your site. A web host essentially offers storage space and allows access to your website. I use SiteGround as my web host and pair it with wordpress. org as its platform.  Perks of self-hosting this way with WP .org include:
Adding a variety of plugins, like YOAST and Grammarly
Ranking better in searches via SEO optimized posts and themes
Monetization through an online store and any type of affiliate links and ad campaigns of your choosing
Faster loading time for your users, which also helps you rank better in searches
Ability to edit features, HTML, and all formatting
Choosing and purchasing any gorgeous blog theme that fits your niche through vendors like StudioPress
You just have to remember to update your plugins with self-hosting, which takes all but two seconds when prompted.
Also, make sure to backup your site through plugins like Updraft and install a plugin for security like Wordfence.
My Recommended Self-Hosting Choice: SiteGround
I highly recommend SiteGround as your web host as they have been wonderful for me.
Although slightly nerve-wracking, SiteGround transferred all of my .com material to .org.  YES, you can transfer your old site content, which offered a huge relief for me. Only my WP .com theme didn't transfer, which was OK with me. I bought a new and more SEO and device-friendly theme that I could customize.
Plus, with 24/7 chat service, SiteGround's staff members are always available to problem solve and help. Once, I updated a plugin and my site had a glitch.   Ok, maybe that sucker crashed and disappeared into the error message abyss. I wanted to barf. Within minutes, SiteGround's team had everything back up and running.
The main benefits of SiteGround:
Their starter package starts at $3.95 a month
24/7 online chat help service
Easy to use for beginners
Creating your own custom domain email (hello@theuncorkedlibraian .com)
10 GB of starter storage space
Widely used by bloggers and freelancers—there is SO much information out there to help you get started and make the most of self-hosting
Now that you have the main key to monetizing your site, here are 5 affiliate marketing for bloggers to get you earning money right away:
5 Affiliate Marketing Programs For Bloggers
These are 5 affiliate marketing programs for bloggers to help you make money blogging.
You can also check out TUL's post on forming an LLC.  Equally important is learning how to increase blog traffic.
Please remember that success varies across bloggers, and don't forget that you must disclose on your blog that you are using affiliate links.
Insider Tip: I find that using product links is more helpful and makes more sales faster than banners and ads.
1. Amazon
Amazon is where I first started monetizing as a book and travel blogger. Signing up for the Amazon affiliate program takes mere minutes, and they have a variety of banners, product links, and promotions that are easy to integrate into your site.
Amazon makes cutting and pasting affiliate links easier than any other program I've used, and you can quickly track your income report. How much commission you make is based on what type of product you sell, and what promotions they are running.
Even if you don't sell the exact item that you are promoting, Amazon retains cookies for at least a day and counts any sells within that period.  Amazon is versatile, popular, and they have a plethora of products.
Example of an Amazon banner:
A few words of warning:
You must make a specific number of sells within a designated time period for official Amazon Affiliate approval. If you fail to make those sales, you can apply again, but you can no longer earn money from old links.
Amazon is strict about who uses your links. They monitor for friends and family—and will not count any IP addresses that look like yours or someone who knows you.  I have a sneaking suspicion they also check page engagement times: If other bloggers are helping you out, the sales with immediate link clicks and purchasing of unrelated items within seconds may get flagged.
At this time, you also cannot directly post Amazon affiliate links in newsletters or social media platforms like Pinterest and Twitter. Links must be embedded into a relevant post. I highly suggest reading their terms and conditions before starting.  Even pro bloggers have gotten kicked out years later for breaking a rule.
Payout starts at $100–so you may go a few months without pay if you are just starting.
Sign up for the Amazon Affiliate Program.
2. ShareASale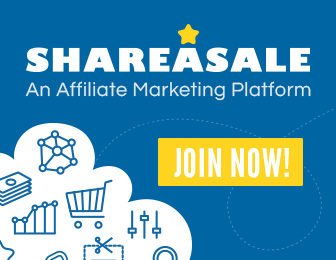 ShareASale is another popular affiliate marketing program for bloggers. A part of Awin (that's up next), ShareASale is currently operating independently.
Unlike Amazon, you apply for companies who you wish to promote products for.  Each company approves or denies you–so if you get denied for one, you have 100's of others to choose from.  Etsy (U.S.) and Wayfair are just a few companies tied to ShareASale, and I personally use ShareASale for Tailwind, a bunch of blogging resource programs, and I just joined Zazzle for fun.  Wine t-shirts, anyone?
Minimum payout is $50 monthly once you make a sale.
Join the ShareASale Affiliate Marketing Program.
---
Other TUL Blogging Resources:
What Remote Life Is Really Like      How To Maintain A Healthy Lifestyle As A Blogger
---
3. Awin
Awin.com is actually a UK based affiliate program (with some of the cutest stationery companies I have ever seen).
Awin boosts of Etsy for non-US users, and like ShareASale, links to a variety of programs and companies that you apply to on an individual basis.
Somewhat of a pain but to show good faith, when you apply for Awin, you have to pay $5–which you immediately get back upon finishing your application and approval.  You will also need to upload your own W-9 from the IRS website.
You are responsible for reading each program's rules to see where you are allowed to post your links.  Unlike Amazon, some programs will let you post direct affiliate links anywhere you wish.
Join the Awin Affiliate Program: Awin.com
4. CJ Affiliates (with Barnes and Noble for my book bloggers)
CJ Affiliates is formerly Commission Junction.
Once again, this type of affiliate program offers a variety of programs to apply for and choose from like Trip Advisor and Barnes and Noble.
One of the largest networks, they payout monthly, and you must make a sell within 6 months or they boot you out of the program.
I specifically like that CJ Affiliates has a deep link generator plugin for your Internet browser (kind of like the Pinterest Pin or TW scheduler); I can quickly head over to Barnes and Noble, find the book I want to pair with a review, and instantly generate an affiliate deep link to drop in my post.
Example of a CJ Affiliates Barnes and Noble banner:
Example of a product link: Check out Barnes and Noble's Top 100 Books.
You can join CJ Affiliates here.
5. Book Depository 
True to my part book blogging nature, I wanted to add one more affiliate network for my book reviews.
Book Depository offers millions of books from all over the world, including titles from indie authors and publishers.  They also provide free delivery to over 100 countries.  With over 19 million titles, you cannot go wrong.
Joining their affiliate network is free, affiliates earn 5% on all sales, and there are monthly payouts.  They show your earnings in the pound but will convert your sales to dollars when they pay out.  You can also join them via Awin, which might be easier if you want to consolidate.
Sign up for Book Depository.
As one additional program, you may also want to check out:
Skimlinks.
Are You Ready To Make Money Blogging?
Although this is the short and condensed version for how to make money blogging via affiliate marketing for bloggers, I hope these self-hosting tips and 5 affiliate programs get you started as a new or even more experienced blogger.
I went for almost a year without adding affiliate links to my book reviews.  I feel like a schmuck.  Even with just Amazon alone, I could have been earning passive income.  Adding links takes seconds.
What other ways do you hope to grow your blogging business?
I'd also love to know what favorite companies you have on each of these larger affiliate program platforms.
Support Other Bloggers By Sharing The Knowledge: Pin It!