This post may contain affiliate links for products and services I recommend. If you make a purchase through these links, at no additional cost to you, I will earn a small commission. Read the full disclosure here.
Are you wondering if you should start a bookstagram or what a bookstagram account even is?  This post for beginner bookstagrammers will walk you through how to start a bookstagram, bookstagram hashtags, and bookstagram name ideas.
Even more, find photo editing apps, props to use, photography layout ideas, and learn why you might want to become a bookstagrammer or have an Instagram account tied to your bookish brand.

This post originally published in the summer of 2018 and has been updated the summer of 2019.  Find bookstagram 2018 and bookstagram 2019 tips.
What is Bookstagram?
If you are a book reviewer or book blogger, the bookstagram community is probably for you.  Book Instagram = #bookstagram
P.S. Because I am a double niche blogger–literary and tipsy travels and travel books–my account looks much less traditional than most bookstagrammers.  We will talk about this too.
Bookstagram is an Instagram account about books with pictures dedicated to showcasing everything bookish.  Just picture Instagram hitting it off with books and getting it on, really. Guys, #bookstagram is BOOK PORN.
Book lovers use a series of bookish hashtags, participate in special bookish events and themes, and usually post pictures that involve bookshelves, book spaces, and of course, a book or books. There are book reviews and book giveaways.  Harry Potter is always boss too.
Some of the best bookstagrammers stick with a theme, use unique props and backgrounds, and have signature styles or colors unique to their brand like rainbow bookshelves.  Basically, librarian and book nerd heaven.
When looking at how to start a bookstagram, I recommend checking out @jenniaahava for inspiration.
There is an entire world of bookstagramers like Jennia and many of them work with reps to sell fun bookmarks, Funko figurines, stationery, and mugs.
Authors and publishing companies send #bookstagrammers free books, too.  Sometimes, companies for book subscription boxes, notebooks and book clubs will pay for influencer ads or share commission on sales.
Readers log into Instagram to view book reviews, see pretty book pictures, and participate in giveaways.  Your audience is the literary community.  And who doesn't love books?  Really?
Why Start A Bookstagram?
What Is The Point of Instagram and Bookstagram?
As I already mentioned, I am a more rare breed of bookstagrammer as I recently started mixing travel and books together. I am growing to love this diversity.
Branding and consistency are important for serious bloggers and IGers.  You want a specific niche and you want to stick to it.  Bookstagram is a great way to showcase your specialty, expertise, and market a blog or business if you have one.
So why Instagram for book people?
Instagram is a visually beautiful social media space to showcase pretty pictures with short captions.
People use Instagram to get inspiration as well as make purchases.
For some, Instagram translates to more blog traffic.
For others without a blog, bookstagrammers use IG to make money from ads.
Many want to receive free bookish schwag.
Many companies look for reps and pay them affiliate commissions via bookstagram.
Is Creating A Bookstagram Really Worth It?
Full Disclosure: Instagram is also the bane of my existence.  It's a love-hate relationship.  The social media platform is finicky with an algorithm that changes more times than my love for red versus white wine.  Instagram is also a pay to play platform and favors paid-for ads.  There is a ton of fake engagement, numbers are still king, and people will F/UF as if their life depends on it.
Bookstagram drama is for real. People argue over reviews, say intolerant things, and destroy Marie Kondo… I warned you.
Quite frankly, IG can be a huge waste of time and make you feel like garbage.  It just depends on how you look at it…
OMG That Sounds AWFUL: Do I Really Need Instagram Or A Bookstagram As A Book Blogger?
That was the real talk right there.  However, I do believe that all business owners and people who want more than a hobby book blog should have some presence on Instagram.  And yes, I am there but I don't LIVE on the platform any more.
If you don't want a book blog, learning how to start a bookstagram might be for you too so you have an outlet or side hustle for book reviews.
I pair my bookstagram with my website, The Uncorked Librarian.  I post reviews on my book blog and then share bookstagram pictures on Instagram to drive traffic to my blog.  Pictures range from the occasional flay lay to a book with a travel backdrop or wine.
I also share literary travel, such as bookstores abroad and beautiful libraries, and tips for how to book blog like me.
How To Start A Bookstagram
First up, before you learn how to start a bookstagram, you need to think about your goals by having one.  The same with book blogging, you need to determine your name, niche, and your target audience.
Bookstagram Names And Niches
What Is Your Passion & What Do You Love?
First up, what do you want your bookstagram account to showcase?  What type of books do you love?  Are you focusing on just YA books or mysteries?  Do you pair books with recipes?  Are you into lifestyle more so than fiction and want to showcase home design books?  Are you a blogging boss babe who only wants to post business and successful books for women?
Do A Little Market Research, Too
On top of your passion, see what people are searching for on Google, Pinterest, and check out other bookstagrammers accounts.  You never want to copy anyone, but see what people like and are talking about.  Can you build your own niche?  Think about how you can stand out amongst the masses.  And masses there are.
What Are Your Bookstagram Goals?
You also want to determine your goals for starting a bookstagram.  Are you trying to make money?  Is this a fun hobby to review free books from Netgalley?  Do you want to be a brand rep or sell your own bookish products?  Are you promoting a blog? Even cooler, are you an author promoting your own books and writing?
Bookstagram Names
Once you determine what you want to showcase and your goals, you need a bookstagram name.  I highly recommend picking a bookstagram name and sticking to it.  I cannot tell you how many bookstagrammers lose followers when they constantly switch names.
A Few Bookstagram Name Ideas and Factors To Consider
Is your bookstagram name already taken?  Check to make sure the Instagram handle is open.  Also, check for trademarks or else the law will shut you down.
Is your name reflective of your brand?   Is it descriptive and professional?
You want your IG name to be easy to remember, spell, and find.  Is it searchable?
If you plan on having a book blog or using other social media channels, is your name available across platforms and the Internet?  Learn about how to start a book blog here.
Consider if you want to be known for your name or a quirky brand name.  Bloggers debate this as they grow bigger.
How To Start A Bookstagram Once You Have Your Name
A Business vs Personal Bookstagram IG Account
This goes without saying, but once you have a bookish name,  you will need to sign up for Instagram.  If you are thinking about turning your Instagram into a little profit and sponsored hell…I mean sheer fun…business, I recommend using a public IG business account.
Why a business account?  Mostly because you can see your stats.  If you work with brands, they will also want you to send stats to pay you for ad campaigns and such.
However, rumor has it that IG is MUCH nicer to personal accounts.  You just lose all of the above features.  Bloggers have debated and tested this theory out for a while to no avail.  May the odds be ever in your favor…  I cannot tell you what to pick, for sure.
I won't walk you through setting up an IG account step-by-step; you can also just literally sign-in via your FB account.
Having A Strong Profile On IG
Once you sign-up for IG, you need a strong Instagram profile with keywords.  I highly recommend using a picture of you and not your brand logo.  People want to see a face to the name.  This is much more personal than a brand logo, which is usually associated with someone trying to sell you something.
Keyword Your Bookstagram Account
Keywords are like hashtags and need to be relevant and searchable.  Keywords tell users what you are all about.  Here is a screenshot of my profile:
The @theuncorkedlibrarian is my handle.  On my profile, I want you to know my name and the main topics that I cover: books, booze, and travel.  In my profile, I also let on that I provide blogging tips so that you can live the bookish and boozy life like me, too.  Next to your name, you might want to have your brand name.
Right away, people know what type of pictures they will find on my account, who they are talking to, and what value I am providing.  At the end of the day, your bookstagram account isn't about you unless you are just having fun.  Bookstagram is about providing meaning and info to an engaged audience.
My Instagram profile tells you three problems I am solving and then has a free little bonus.  You can see that my goals are to showcase travel and global books, bookish and boozy travel, and give you inspo if you want to blog as I do.
Right now, I am using a link shortener, Bitly, to direct people to my new blog post about my favorite blogging courses.  If you have a website, I highly recommend linking to a specific post and reinforcing its value.
How To Start A Bookstagram: Taking Photos
After you create your bookstagram profile, you want to think about your content: pictures and captions.  Here are two examples of bookstagrammers who utilize props and beautiful flay lays:
Be sure to check out both Rae's beautiful bookstagram account @raenovels and Jenny's @jennovels.  Thank you to both of them for giving me permission to show their accounts (they are my fav along with Jennia so please give them all a follow!).
As a rebel bookstagrammer and double niche blogger, here is TUL's version of bookstagram:
As you can tell, I don't just focus on flay lays and travel changes up my audience a bit.  In some ways, this makes my audience smaller: not all book lovers follow me if they want flay lays and bookshelves and not all travelers follow me if they want more than literary travel.  I am OK with this: I want to be an 'expert' in my small niche.  Just think about what you want and your goals.
Any of these methods or coming up with your own is more than acceptable.  See what your audience engages with and relates to.  Make it your own.
Do You Need Props?
I am all about buying basic props or using what you have around the house for #bookstagram.  Since I travel a lot, I sometimes bring my books to locations and shoot on location.  It's up to you.  A few ideas for things to buy for bookstagram, but not required:
The Dollar Store is your best friend but I won't lie: I went to Michaels because, well obviously, I love Michaels. You can probably find materials much cheaper at Target, Walmart, and any dollar-like store, but an excuse for a mid-day rendezvous with a craft store? I am IN. Plus, Michaels sells giant wine glasses.
The question of the day: did we leave with one?

For under $50, I decided to buy my initial #Bookstagram supplies and props:
Scrapbooking paper for my backgrounds
Plastic flowers, candles, and glowing stringy lights
A white foam board to lay everything out on top of
Cute little props that I could not resist. Everyone needs more foxes and owls in their lives, right?!

What Bookstagram Props You Can Dig Up Around The House?
Anything and everything! Just keep consistent with your brand and who you want to be.  Heck, I used my running shoes that paired well with a book. Think about maps, confetti, strings of lights, old greeting cards, scrapbooking materials, ticket stubs, pictures, crafts, wine bottles…
Mugs & Cups
Blankets & Towels
Christmas Tree Ornaments (even if you don't celebrate)
Candles
Bookmarks
Stickers
Art supplies
Pets
More books
Bookshelves & Bookends
Book art—as a former librarian, we folded junky donated books into owls, turkeys, and you name it; this is not book blasphemy or shit out of Fahrenheit 451, I promise.
 P.S. I always peruse Amazon for cheap crafting supplies too.
Don't Forget Those Comfy Nooks & Reading Spaces!
---
Loving This How To Start A Bookstagram Advice? Check Out TUL's Ultimate Book Blogging Guides:
Book Blogging 101: How To Start A Book Blog
Photoshop Tutorial For Book Bloggers
67 Blog Post Ideas For Book Bloggers
---
Now It's Time To Channel Your Inner #bookstagram Photographer:
Once you have your props and niche down, it's time to get busy at pictures.
How To Start A Bookstagram: Use A Solid Camera
I am book blogger and travel writer, not a photographer.  Sure, I might take a few courses here or there, but it's not my thanggggg…
For now, I pretend I am an artist and pray to the lighting and picture gods that one out of the 100 pictures I take will be workable.
I know some ambitious bookstagrammers who follow photographers that post professional camera settings in their IG captions. They try to mimic pictures with those settings.  This imitation is a brilliant idea, but right now, ain't no roque librarian got time for that.
What I do have is a Canon EOS Rebel T5 and an iPhone 8. The Canon and I could be besties but I am much more comfortable on my iPhone, which takes fabulous bookish and peoplely pictures. Unlike blog posts, remember that Instagram shows much smaller pictures anyway.  You can also peruse cameras and equipment options here.
Think About Lighting
A lot of people have little extra lighting gadgets that they buy and love.
Natural light has always been the best for me. My indoor pictures, even with editing, are darker and grainy. Plus, my cats insist on helping.  If you take indoor pictures, locate the nearest window.
Utilize Lightroom and Editing apps
If you are in the business of posting pictures, Adobe Lightroom CC has been one of my greatest investments.  There are a ton of YouTube tutorials out there. Lightroom helps makes my pictures brighter, clearer, and I can edit the colors to better brand my content…or so I try.  And fail.
I bought an Adobe package of goodies for about $9.99 a month and have access to Photoshop, which I use to resize images and to fix e-reader book covers (more to come on that skill). There is a cloud to store pictures, and I love Adobe Spark for IG story covers.  here.
Is there a bookstagram app?  Specifically, not that I know of or use, but here are some free editing apps:
P.S. Unum is a great app to layout pictures in advance to see how they look together. This little app also gives you some free engagement tips like your most popular hashtags. There is a paid version too.
When All Else Fails: Presets BABY
Lastly, I recently purchased the infamous Aggie Lal's presets (Travel In Her Shoes IG goddess).  Aggie's presets are a great starting point to show you how you can play with grain, focus, colors, shadows, and highlights.  Aggie's world-traveling pictures are gorgeous, and I love tweaking her settings to work for me.  You can check out Travel In Her Shoe's presets packages here.
Do I also need to mention that you shouldn't be a tool and never STEAL people's #bookstagram pictures?  Cuz that is totally happening right now too.  Plagiarism is against the law so shoot your own damn pics.
Ways To Shoot Your Bookstagram Pictures
What Is A Bookstagram Flat Lay? 
All of these editing tools and props are great but what about the actual picture? I am much better at taking flat lays, which is basically a picture from above looking straight down. Others use angles and even straight on shots. I've seen edgy pictures with shadows, people reading, and books hanging from trees. Just do you.
Here are two bookstagram flay lay examples from TUL: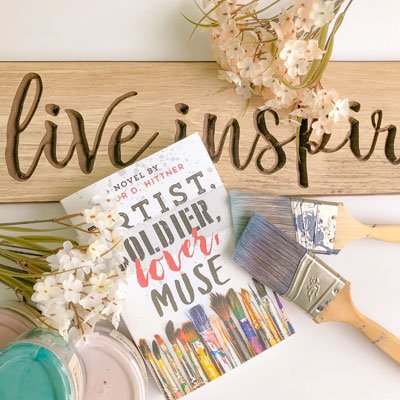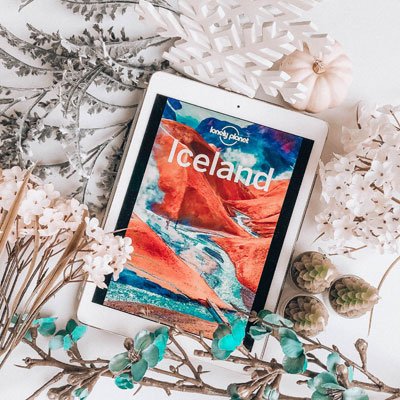 How To Start A Bookstagram: What About Grainy Ebooks?
When taking a picture of an eReader, sometimes the cover or glow gets obscured. Just think about how hard it is to take a picture of your computer screen.
The trick is to use an image of the book cover (one that you have permission for) along with an editing tool, like Photoshop, to superimpose the book cover over the eReader in the original shot. It's unicorn magic!
Read my Photoshop Tutorial For Book Blogging to see this trick in action.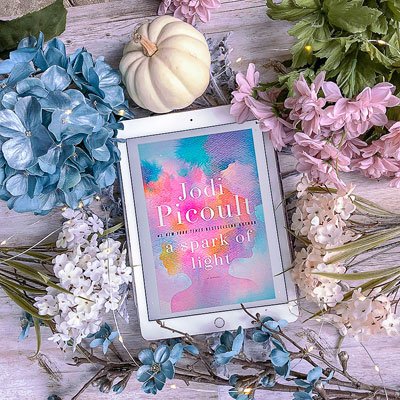 Other Types Of Pictures
If you don't love traditional flay lays, which is becoming less my style, you can have people in your pictures reading books.  You can place books out in the wild.  Truly, you can do whatever it is that your heart desires.
How To Properly Start A Bookstagram For Beginners
Bookstagram Hashtags And Captions
Once you take pictures and have your account all set up, what comes next?  Writing time!
You might be wondering what to include in your bookstagram caption. I recommend a feisty summary, book information such as the author and date published, and of course, what you thought. Tell us why we should care.  Give us something we didn't know.
One day if you become a rep, you would also include information with your rep codes for discounts. Personally, I love a good story about where you were reading the book or a true life connection.
Hashtags Are My B*tch…but really it is the other way around:
Hashtags are key to finding relevant content on Instagram and letting readers find you. I gain new followers from hashtags and find some inspiring accounts. Hashtags are even more important for bookstagram because unlike the IG traveling world, geo-tagging (basically showing locations) does not make as much sense.
I highly recommend following a few hashtags as well as top accounts in your niche.
The Perfect Mix of Hashtags
On Instagram, you can use up to 30 hashtags.  Try your best to use them correctly.  People go crazy.  Instagram will punish you for using hashtags incorrectly or in a spammy way (i.e. hashtagging bikini for a book picture).
There is also all of this debate about putting hashtags in the caption vs the first comment. As of 2019, I still personally advise hashtagging in the caption as IG algorithms have been player hating.  But it could change tomorrow.
As with all IGers, you have to do your hashtag research. Librarian glasses on: You always want to aim for hashtags that have 25,000-200,000 uses and mix it up with each picture.  You also want hashtags that are niche relevant.  For example, I use #literarytravel and #travelbooks a lot.
You may want to hashtag your brand like #theuncorkedlibrarian.
A General Rule Of Thumb For Bookstagram Hashtags:
Five to 10 of your hashtags can be in the 7,000-20,000 range and another set of 5 can be in the crazy millions. If you use the big hashtags, your account will drown in picture overload within .000008 seconds.
Get ready to laugh: this murder by books includes actually using #bookstagram, which has 33.3 million posts at the time of this initial blog post.
Bookstagram Hashtags To Consider By Usage
Please remember that while I come back and update this list, within months, the numbers change.  Please do your due diligence as well.
Some large and popular hashtags to use very sparingly with posts already in the millions or getting close to 1m:
#booklover #bookstagrammer  #bookaholic #bookworm #bookphotography #igreads #bookadditc #bookblogger  #ilovebooks  #instabook  #bookish #bibliophile #bookshelf #booknerd #currentlyreading #ilovereading #bookgeek #bookgram #readersofinstagram #bookreview #book #bookworm #bookishfeatures #booklover
Over 500,000 to 1 million:
#booksbooksbooks #bookhaul (everytime I look at these, they shoot up too fast)
100,000-499,000:
#currentread #currentreads #boonerdigan #readersofig #bookishlove #bookishfeature #bookdragon #bookreader #booklife, #readmorebooks, #readmore, #bookrecommendation, #booktime, #bookblogger #bookreviews #bookreview #bibliophiles #bookishescape #bookishgirl #timetoread #readingbook #readingbooks #bookreading #bookreviews #bookbloggers #bookaddicts #bookaddiction #bookaddicted
30,000-90,000 range:
#booksofinsta #bookishcandle #bookishcandles  #bookreviewer  #currentreads #bookphotos #readersofinsta #bookishphotography #readerslife
10,000 to 30,000:
, #instabooklovers #booksbooksandmorebooks #bookdragons #bookreviewblog #bookishphoto #bookreviewers #bookreviewblog #bookbloggersofig
Tiny Ones Under 10,000:
#literarytravel #literarytravels #bookbloggerslife
Again, I also hashtag with my brand, #theuncorkedlibrarian and then also use bookstagram hashtags with the book title, author, publisher, and sometimes sources like #netgalley. Look at including genres too (#yafiction, #YAromance).
After you have your caption, hashtags, and picture, you are READY TO POST!! Congrats!!
How to get your post shared by others:  If you want to have a curation account (an account who solely shares others pictures) share your #bookstagram post, make sure to tag them and use their specific hashtags.
A Few Bookstagram *Uncorked* Extras:
If you are looking for some immediate Bookstagram engagement besides the average photo, use bookstagram templates for your stories or start a bookstagram challenge.  You can build templates in Canva that ask readers about their favorite books or check off all of the classics that they've read.  They can then share these blank templates with book friends.
For a bookstagram challenge, offer a monthly challenge graphic and tell people what to post each day of that month within a theme.  Make a hashtag and have them tag you for the chance at a shoutout.
Big people glasses on: Are you ready to start your own bookstagram?  Think you can create a beautiful bookstagram?
Then there Is One Last Thing…Be Prepared For Disaster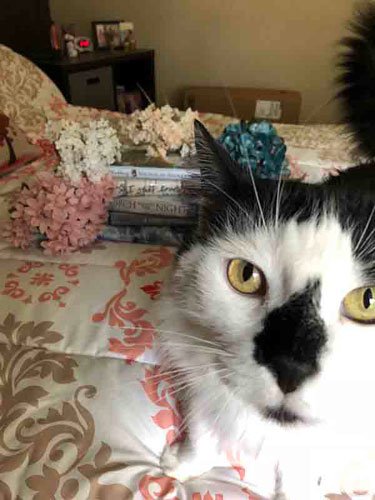 I'd love to hear your funny #bookstagram stories and tips in the comments below.
Did you find some of this information on how to start a bookstagram helpful? Share the book fetish:  Pin it!