Are you looking for top World War 2 books set around the world? Find World War 2 historical fiction, indie titles, and WWII nonfiction related to specific countries.  Discover classic titles as well as ones you may have skimmed over or forgotten.
---
Disclosure
:
This site contains affiliate links for products and services I recommend. Read my Disclosure for more information. If you make a purchase through these links, at no additional cost to you, I will earn a small commission. Thank you!
I recently interviewed for a podcast about my favorite old books, new titles, and books that disappointed.  Throughout this interview, I realized how much historical fiction a book blogger with a travel niche reads related to WWII.
Makes sense, right?
In order to grasp the true history of a country, historians and readers must also understand the country's role during times of war.
Hundreds of World War 2 books exist, and while there are endless must-read lists, these are my top World War 2 books.  Because I read and review a lot of indie authors, I hope you find a historical WWII book that you have never heard of.
Top World War 2 Books From Around The World
WWII Historical Fiction Set In The Philippines
Looking for top World War 2 indie books?
Everyone has heard of the infamous war general, Douglas MacArthur.  The story that few know, though, is his relationship with younger Filipina lover, Isabel Rosario Cooper.  A historical romance based loosely in fact, My MacArthur begins at the brink of WWII.  This is not your typical MacArthur story.
Set in the Philippines and moving to the United States, indie author Cindy Fazzi introduces readers to Isabel's life full of socio-economic and racial turmoil along with her testy and cruel lover.  MacArthur is addicted to Isabel, but he cannot give her the life she desires when his reputation is at stake.
Enter Prohibition and learn more about both a country and woman overshadowed by MacArthur in typical World War II historical fiction.  Get TUL's full review of My MacAruthur→
Top World War 2 Books About Lithuania and The Baltics
Indelible is one of many WWII books that fall across multiple landscapes and timeframes.  Although mostly set in modern-day Paris, readers learn about Magdalena's past in post-Soviet Lithuania.
Magdalena has a special ability and curse:  She can see people's truths tattooed across their faces.  Many tattoos also foreshadow their tragic futures.
Although Indelible is a story about moving forward, readers subtly learn about the effects of WWII on her family, friends, and one scary roommate.  The storyline alternates perspectives from Magdalena to a student studying abroad in Paris, Neil, and his father, Richard, who is searching for the truth about his estranged, deceased mother. Check out TUL's full review of Indelible by Adelia Saunders→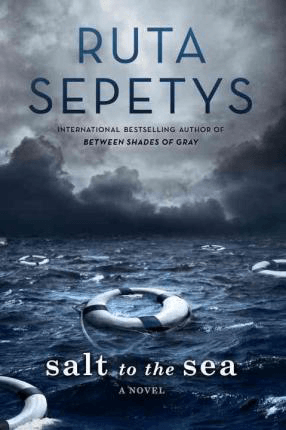 While most know about the sinking of the Lusitania and Titanic, few have heard about the sinking of the Wilhelm Gustloff, even though it is the largest maritime disaster in history.   Salt to the Sea is a WWII historical fiction novel for teens and adults.
Sepetys is infamous for shedding light on untold stories.  More than 9,000 refugees drowned on the Wilhelm Gustloff.  Fleeing from the Soviets moving in on fallen German territory, civilians had no choice.  Many left behind homes and family.  Through four teens' stories, Sepetys shares the brutal effects of WWII on youth in the Baltics and along the Baltic Sea.  One of the best top World War 2 novels, I would miss Salt to the Sea.  Read More→
TW for rape and violence.
Once again, Sepetys proves that she writes the best WWII books.  Now a motion picture (Ashes in the Snow), follow along with 15-year-old Lina as she is crammed into a crowded train headed for a Siberian work camp with her mother and brother.  Taken from their Lithuanian home, Lina is separated from her father and tries to contact him via coveted drawings.
Lina is a small crossover character in Salt to the Sea, and once again, Sepetys braves an overshadowed story of youth caught in the crossfires of war.  Between Shades of Gray is a World War II book for teens and adults.
Between Shades of Gray is also an award-winning title: a Carnegie Medal nominee, a William C. Morris Award finalist, a Golden Kite Award winner, and an NYT bestseller.
Find your copy of Between Shades of Gray here:    Amazon     Barnes and Noble    Book Depository
Top World War 2 Books Set in the United States
If you loved The Art Forger, you will equally enjoy indie author Arthur Hittner's lesser-known title, Artist, Soldier, Lover, Muse.  Based loosely on artist Harold J. Rabinovitz (1915-1944) as well as prominent baseball players and painters, fall into the NYC social scene in the 1930s and '40s.  Artist, Solider… is one of my favorite historical fiction WWII romance novels of 2018.
Fair warning that while this title takes place during WWII and the Great Depression, readers find more of a love story in the world of art.  Tragically, though, our protagonist and pacifist Henry Kapler cannot escape going to war.  Watch as Kaplar falls in love with two women.  Read TUL's full review of Artist, Soldier, Lover, Muse→
Jodi Picoult is a hit or miss author for me.  The Storyteller shares multiple characters' perspectives about the past and present.  Although not typically known for World War II books, Picoult paints a memorable picture.
Sage is a small town baker with a scar on her face that acts as a constant reminder of losing her mom in a car crash.  A loner and unable to forgive herself, she meets an older man, Josef, at her grief group. Josef confesses that he has committed terrible atrocities and wants to die with Sage's help.
With characters connected to Sage's grandmother, Minka, who is a Holocaust survivor, readers personally enter different perspectives from WWII. True to Picoult, there are twists and turns along the way where everything is predictable but nothing is as it seems.  A story of love, loss, and forgiveness, Picoult captures the effects of war on every side.
TW: Suicide
Find your copy of The Storyteller:   Amazon    Barnes and Noble    Book Depository
A Separate Peace is one of those classic titles and top World War II books that most of us read in school.  Set against the backdrop of WWII, Gene and Finny navigate coming of age in a New England prep school.  Although somewhat playful rivals, an accident and dare leads to Finny's untimely death.
The novel paints a picture of war and the effects on youth in a different light than Sepetys.  As the young boys begin to enlist, they witness more than they can understand, which takes a toll of their minds.  A National Book Award finalist, A Separate Peace is an old school story about WWII, innocence, guilt, and growing up.
The Chosen by Chaim Potok (New York City) is a similar book set in Brooklyn about two rival boys growing up and becoming friends.
Find your copy of A Separate Peace:  Amazon    Barnes and Noble   Book Depository
New Top World War 2 Books Set In Iceland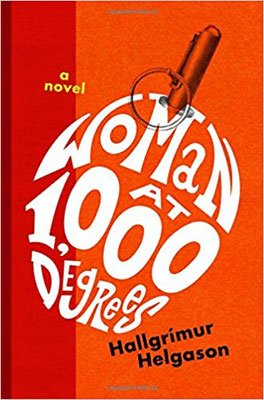 CW: Rape, incest, and child death
One of the top World War 2 books of 2018, Women at 1,000 Degrees takes a unique look at Iceland's role in WWII.  Based on the first Prime Minister's granddaughter, Helgason crafts the vile and honest Herra.  When not trolling the Internet, Herra recounts her childhood as her father joins Hitler's army, a rare occurrence for Icelanders.
Herra is also dying from cancer in a garage where readers learn about the horrors she faced as a displaced child of war.  A terrible mother, she is planning her cremation while frantically holding on to an old WWII hand grenade from her dad.  A story you will love and hate, Woman at 1,000 is a new WWII novel not to miss. Read More→
Also, find more titles by Hallgrimur Helgason here.
France WWII Titles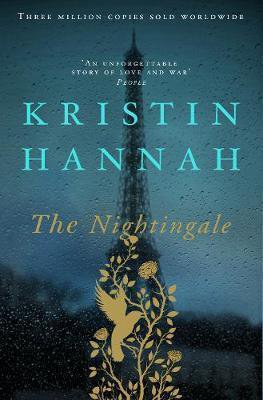 Imagine being left alone in 1939 in France as your husband heads to war.  The Nazis invade, taking over your home with you and your daughter.
This is exactly the situation that Vianne finds herself in as she risks losing it all, including her life.  On the other side of the front, Vianne's sister, Isabelle finds herself betrayed by love and entering the Resistance.
If you are looking for women's historical fiction, The Nightingale is a perfect WWII novel for you.  A Goodreads Best Historical Novel of the Year, People's Choice Favorite Fiction Winner, and a Buzzfeed Best Book of the Year, Kristen Hannah once again captivates audiences with her storytelling abilities.
Find your copy of The Nightingale:  Amazon    Barnes and Noble    Book Depository

Winner of the Pulitzer Prize and a National Book Finalist, librarians rave that All The Light We Cannot See is the best of the WWII books.
Marie-Laure lives with her father and is blind from the young age of six.  Her dad builds her a replica of their city so that she can find her way around. Both are forced to flee to an uncle's home when the Nazis invade Paris.
On the other side in a German town, Werner is an orphan who joins Hitler's Youth for his talents.  On an assignment to undermine the Resistance, Werner crosses paths with Marie-Laure.  A story of unlikely friendship and war along with a hidden jewel, All The Light We Cannot See is a beautiful and tragic story about opposing sides and survival.
Find your copy of All The Light We Cannot See:   Amazon   Barnes and Noble   Book Depository
World War Two Books Set in England
Before entering my freshmen year of college, we had to read World War 2 novel, Atonement.  In 1935, Briony witnesses her sister Cecilia and childhood friend Robbie engage in a harmless incident that her young mind reimagines.  Both Robbie and Cecilia have romantic feelings for each other but all Briony can see is ill intent.
Prejudices and jealously cause Robbie's wrongful imprisonment for the rape.  He finishes out his sentence by enlisting in the war.  While Briony eventually decides she must atone for her lies, Robbie and Cecilia have become victims of war. A classic World War II novel, Atonement is now also a movie.
Find your copy of Atonement here:  Amazon    Barnes and Noble    Book Depository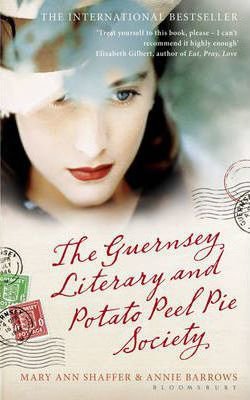 I still need to watch this WWII historical fiction title on Netflix as I loved the audiobook.
With WWII ending, it is 1946 and Juliet is looking for new inspiration for her next book.  Birthed out of an alibi for breaking curfew during the war, The Guernsey Literary and Potato Peel Pie Society is still alive, capturing Juliet's interest.  She heads to Guernsey to meet with its quirky members.
Juliet becomes one with their family, helping raise an orphaned child of WW2 and falling in love.  A sweet story about community and history full of amiable characters, you cannot help but love the literary feel and camaraderie.
Find your copy of one of the top World War 2 books, The Guernsey Literary and Potato Peel Pie Society:    Amazon     Barnes and Noble     Book Depository
Top World War Two Books Set In Germany
Set in Nazi Germany in 1939 and narrated by Death, Liesel is a foster child who loves reading.  Raised by new foster parents, she learns to read as the town holds a book burning to celebrate Hitler's birthday.  A child after my own heart, she steals a book–a habit she retains throughout her youth.
During the war, her family hides their Jewish friend, Max, in the basement, who Liesel befriends.  Throughout the course of WWII, Liesel witnesses death after death and begins writing her own story.  She forms friendships and finds the true meaning of freedom and love.  Some compare The Book Thief to a fictional read-alike for Anne Frank's Diary.  Read More→

A short and fast WWII historical fiction read, The Boy in the Striped Pajamas is one of many top World War 2 books for teens that adults can appreciate too.  Also made into a major motion picture, meet 9-year-old Bruno who befriends a young boy in 'striped pajamas' on the other side of a fence.  Unfortunately for Bruno, who does not understand the consequences of war, this friendship is deadly.
Living in and then outside of Berlin during WWII, Bruno has no idea that he lives next door to a Jewish concentration camp.  His dad is promoted to Commandant in Hitler's army, and the story speaks to the innocence of children.  The end is touching and shocking, yet evitable.
Find your copy of The Boy in the Striped Pajamas:   Amazon     Barnes and Noble    Book Depository
World War 2 Books From The Netherlands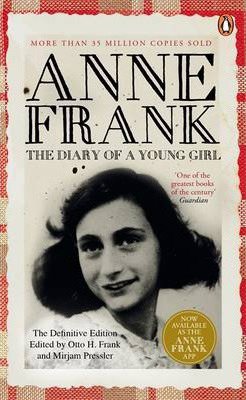 It goes without saying that The Diary of a Young Girl is one of the most well-known World War 2 nonfiction books.
As Anne is on the brink of her 13th Birthday, the Nazis invade Holland.  She and her Jewish family hide in the attic of a shop but are ultimately discovered.  Throughout her time in concealment, Anne records her thoughts and dreams that she will never see through to fruition.
We visited the Anne Frank House in Amsterdam a few years ago where you can still see photos of movie stars pinned to the walls.  The somber feeling of Anne's hiding spot as you ascend the staircase behind the bookshelf brings to life the terrors caused by the Nazis in everyday lives.
Find your copy of top WWII novel, The Diary of a Young Girl:   Amazon   Barnes and Noble   Book Depository
Adding one WWII book from my TBR pile, Girl in the Blue Coat takes place in 1943 in the Netherlands.  Hanneke collects and sells goods on the black market.  She is drawn into WW2 as a client asks her to find a Jewish teenager on the run.  A dangerous mission, she becomes part of the Resistance and learns more about the atrocities of war.
Winner of the Edgar Award for Best Young Adult Mystery and compared to Ruta Sepetys, this is an acclaimed YA World War 2 novel that I have been meaning to read.
Find your copy of Girl in the Blue Coat:  Amazon    Barnes and Noble    Book Depository
What Are Your Next Top World War 2 Books?
There are endless top World War 2 books that you can read.  These are just a few that I learned more from and showed me different perspectives of WWII from around the world from both children and adults.
What titles would you add to this list?
Are there any WWII novels that you did not like?
Share These Top World War 2 Books Or Save Them For Later.  Pin It: